Ariana Grande has stepped in to defend herself from criticism that she's exploiting the LGBTQ community by headlining a big Pride festival.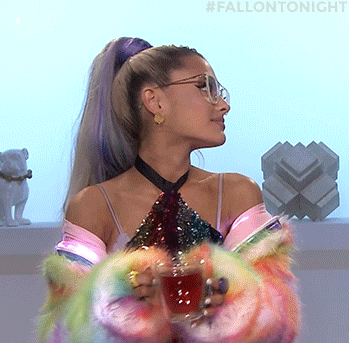 For weeks there had been rumors that Ariana would head the bill at this year's Manchester Pride. She hasn't performed in Manchester in two years—the last show was the One Love concert, which she and her team put together in 2017 to aid the those who were affected when a bomb went off outside her Manchester concert, killing 22 people.
But when the official announcement was made, both the festival and Ariana herself came under fire from people who were upset about the choice of headliner, both because she's not queer and because the tickets were suddenly very expensive. (BuzzFeed reports that a weekend ticket cost £28, but this year it's shot up to £74.50.)
Ariana Grande headlining Manchester Pride and then Pride subsequently charging £75 a ticket is exactly why rainbow capitalism needs to go die in a ditch

— Max (@bluberryodyssey) February 26, 2019
FUCK Manchester pride at this point and everyone going. people in the LGBT community shouldn't have to have disposable income to attend a protest for their rights. it's disgusting exploitation of LGBT people

— maisie-rose (@hernameismais) February 26, 2019
so ariana, a cishet artist, is headlining a pride festival which is now expensive as fuck and gross homophobes are buying tickets JUST to see her. how fucking dare yall take this from us

— ali loves ann (@diceydarkiplier) February 26, 2019
People were also (understandably) upset that the Pride festival was now being treated more like a regular music festival, which is not what it was meant to be. Even homophobes were planning to attend.
A girl from my high school is wanting to get tickets for Manchester pride but we've literally argued over her being homophobic and racist and lesbians make her uncomfortable but she wants to go for Ariana.. this is what I mean about it not being about pride anymore.

— Molly? (@princessmolly04) February 25, 2019
Manchester pride is going to be a mess of straight people getting pissed and putting glitter on their face to watch Ariana, are they there for the celebration of the lgbt+ community? of course not

— india (@indxae) February 25, 2019
And then there was the issue of the LGBTQ artists that could have been hired instead of a straight woman.
So let me get this straight… Manchester Pride made headlines for including the Black and brown stripes in the Pride flag, then upped their ticket prices to £70 thus making the event very inaccessible, then got Ariana, a CIS-Het white woman to headline? How revolutionary *yawn* pic.twitter.com/m7YaBBZuXU

— Tanya Compas (@TanyaCompas) February 25, 2019
this isn't to dunk on ariana personally because i do enjoy her music, but it's 2019. sis could come to manchester on any day and sell out. let us use pride to promote and celebrate queer artistry, we have so much of it right here in the UK, and lord knows it needs promoting.

— she's back ??‍♂️ (@fka_j) February 27, 2019
ariana grande headlining manchester pride is such a big kick in the face to lgbt artists lmfao

— allex 15 (@Ioseloselose) February 25, 2019
One person made what they later called "a passing comment" that blew up huge on Twitter. They wrote, "idk …. ariana headlining pride when she's straight (as far as we're all aware) …. and doubling the price of tickets …. kinda smells like exploitation of the lgbt community to me ….."
idk …. ariana headlining pride when she's straight (as far as we're all aware) …. and doubling the price of tickets …. kinda smells like exploitation of the lgbt community to me …..

— ? (@raininjulyvinyl) February 25, 2019
They added a few follow-up tweets explaining that they had no problem with Ariana as a person, they just found it "weird/uncomfortable" that a straight woman would be the "'face' of the whole event."
i just find it a bit weird/uncomfortable when it's a festival celebrating being proud of your lgbt identity and then a straight artist is chosen to be the headliner and 'face' of the whole event

— ? (@raininjulyvinyl) February 26, 2019
It was at this point that Ariana stepped in to respond.
i saw many people discussing this so i wanted to chime in…. hope that's okay ?? pic.twitter.com/7joiZwI1QS

— Ariana Grande (@ArianaGrande) February 27, 2019
She responded to the tweet about exploitation, writing, "i saw many people discussing this so I wanted to chime in…. hope that's okay." She included a long note which read:
hi my love. i have nothing to do with ticket pricing — manchester pride sets those rates, and they're mostly out of my control. the lgbtq community has been so special to me and supportive throughout my entire career. the relationships i have with my lgbtq fans, friends, and family make me so so happy. i want to celebrate and support this community, regardless of my identity or how people label me. and also i wanna visit a city that means so much to me. lgbtq representation is incredibly important, and i'm always proud to share the stage with lgbtq artist! over the years, pride events have been headlined by performers and artists of all sexual orientation and genders, including straight allies like cher and kylie minogue. i do think there's room for us to talk about these issues without equating a performance *for*an lgbtq audience with exploitation of the lgbtq community. if you truly feel like i didn't deserve to be offered this spot, i respect that. but i did accept it excitedly and gratefully. i'm not claiming to be the hero of the communityor the face of the lgbtq rights movement — i just wanna put on a show that makes my lgbtq fans feel special and celebrated and supported. that's all i wanna do.
Many people responded well and many felt Ariana explained herself beautifully.
Other people stressed the importance of allies.
But some people felt she should still try to do something about the exorbitant cost of the tickets.
I'm sure she won't be able to appease everyone, but it seems like she's doing her best.
h/t: BuzzFeed