Recently, many people online were talking about their experiences when going to see "Incredibles 2" in theaters.

While the movie was incredible (haha, see what I did there), many people were confused by a short film by Pixar that played before the movie. The film, "Bao," focused on a Chinese-Canadian mother who gets another chance at being a parent when a dumpling comes to life.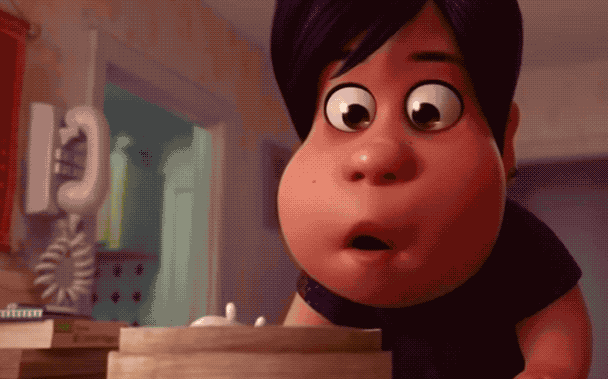 While the film was adorable, many viewers were hella confused by the way it ended. Apparently, the mother gets into an argument with the dumpling who tries to "leave home" and decides to eat it. Not understanding why a mother would want to eat their "child," people were like…wut?
Domme Shi, the director of "Bao," said that the film's inspiration comes from her own experiences with her Chinese mother.
"Growing up I was that overprotected little dumpling for my Chinese mom. I was always so frustrated about being so coddled and overprotected and smothered by my mom. I never really understood why she did it."
Yet, people on Twitter still expressed their sincere confusion of the short film, wondering WTF it all meant.
But many people on Twitter completely understood the message, calling those who couldn't grasp the metaphor "ignorant" and biased. Additionally, many who grew up with Asian parents resonated with the film's message.
when i watched bao i was like…that's just me, like exactly. well anyway here's my wonderful mom and me as a little bao pic.twitter.com/ydDxYtlAol

— Louie Zong (@everydaylouie) June 26, 2018
https://twitter.com/_asapn8/status/1008392316258639875
Me when I hear people say they thought "Bao" was confusing and stupid vs. me when I realize their cultural insensitivity and inability to process basic metaphor makes the the short even more special for those of us that did resonate with it ✨

brb gonna call my mom now pic.twitter.com/R4eLDJ85tz

— Ariana Zhang (@ArianaZhang) June 26, 2018
i said it before and ill say it once more: bao is an incredible short film. i think the storytelling in it is subtle. ppl are like i dont get the food part, i didnt know it was a dream sequence– im sorry u need literally every detail filled out for u 2 understand a story

— Robin Yao @ AX i30 (@shounenking) June 27, 2018
bao hit so close to home and sent me bawling in the short time that it aired before the incredibles. it is raw and authentic all the way because this is what many traditionally chinese families go thru with their children in today's increasingly individualistic society.

— ALLY ???? (@kkumrii) June 26, 2018
it makes me really angry and sad when people laugh at the short film "Bao." Not only is it extremely disrespectful but it shows just how little emphasis or visibility is placed on asian cultures in American media. 🙁

— maia (@mxmtoon) June 26, 2018
THIS ???????? WASN'T ???????? MADE ???????? FOR ????????YOU pic.twitter.com/cNDe1cDmAD

— William Yu (@its_willyu) June 25, 2018
If you didn't understand the pixar short Bao you're not even necessarily culturally ignorant… you're just dumb

— Indy Dang (@McKarmey) June 27, 2018
with Bao i dont know why people get so weirded out by the dumpling being a child, like this isnt the first time food has been personified. you can still read the character as a human and grasp the plot like dont pretend thats what was confusing y'all watch veggie tales just fine

— Taylor ✨????✨(COMMS OPEN) #Beto2020 (@celestialtabris) June 26, 2018
https://twitter.com/revolocities/status/1011833967866073088
BAO IS SUCH A GOOD PIXAR SHORT BUT PEOPLE MAKE FUN OF IT BC THEY DONT UNDERSTAND IT AND IT MAKES ME SAD JFJSHDH

— Reese ???? (@Reesekubo) June 27, 2018
"The polarized reactions to Pixar's Bao are rooted in a lack of visibility around the Asian American experience and the unique challenges therein." I fixed that title for you. https://t.co/mIzdyazIVe

— Sami Jayne – Anime Expo/VidCon/SDCC (@_samijayne) June 26, 2018
umm. mildly confused to get on here to learn locals found the Pixar short Bao to be confusing and laughable?! how were u not crying ur eyes out did the mother/son conflict need to happen at a chick fil a in order for y'all to empathize

— bekah (@thebekahnator) June 26, 2018
https://twitter.com/larryluk/status/1011039405774200835
stupid people: it's not cultural appropriation it's cultural SHARING

*pixar's bao short shares how asian immigrant mothers feel in a cute way for a general audience*

stupid people: I DONT GET IT!!! IT WAS DUMB!!!! WHY AM I NOT ALLOWED TO LAUGH!!

— Klaudia Amenábar is being gay and doing crimes (@kaludiasays) June 27, 2018
was already starting to tear up when "Bao" started before Incredibles 2 but then my little brother whispered, "they're making bao exactly like we do!" and I cried through the entire short— what a feeling to see you & your family on the screen

— Amy Zhou // 周純 (@amyczhou) June 26, 2018
people who didn't understand bao or were confused by it are actual idiots

— starly (@stacyargta) June 26, 2018
As someone who is white, I completely understood the message of Bao and it did tug on my heartstrings. I'm the baby of a family of three and moved out of my mom's house last year–I know firsthand how much my mom felt "empty nest syndrome" and, how much she wanted to keep me close (I still get breakfast with her once a week). So, I don't necessarily agree that it was made for one specific culture in mind–I believe all mothers are capable and do experience the sadness when their children grow up and move away. However, I do agree that acting as though it's "dumb" or "confusing" is an ignorance of "this isn't 'normal' to me, so I'm just going to call it stupid."
Do better, y'all.