It's not easy being a parent. Kids are time-consuming and demanding and if there's one thing most parents have in common it's that they're just bone-tired. The fatigue and distraction can lead to all sorts of easy-to-make mistakes, but the way I see it, as long as your child makes it in one piece through the day and into bed at night, you are batting 1000.
These parents all had some fails but hey, they truly care, and that's the important part.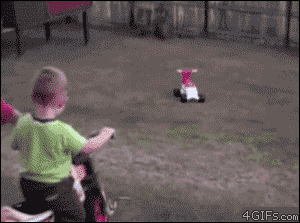 1. Like this mom who only forgot one ingredient.
It's the little things in the universe that keep you humble and remind you that you're not half as smart as you think. I made a grilled cheese sandwich for the kids and forgot the cheese????????‍♀️. #ParentingFail #FML #momlife pic.twitter.com/JefVlmwPAL

— Liset (@Krzwyf) March 9, 2019
2. Or this dad who didn't consider the bigger picture.
Just made Winnie the Pooh as a pb sandwich for my daughter. Only to realize I have to cover him with the other slice. #DadFail pic.twitter.com/IZtktBMvcX

— Wesley Snyder (@365DaysOfDisney) October 11, 2016
3. This dad who's really very tired.
4. And this ace photographer dad.
This will be the last time they put me in charge of taking pictures for my son's music recitals. #ParentFail pic.twitter.com/4BeVRITuV8

— Kelvin Goertzen (@kelvin_goertzen) May 6, 2017
5. This dad who bought his daughter Lily a special birthday cake.
Celebrated my little girls birthday at school today with a donut cake.. Should have checked the cake before I got to school.. #lilynotbilly #dadfail pic.twitter.com/qD4swY3IDt

— Brandt Snedeker (@BrandtSnedeker) March 1, 2018
6. Whoever is responsible for this well-intentioned cake for babies.
7. This dad whosecalculations were just a little bit off.
8. This dad who should maybe stay away from the kitchen. And the jokes.
I don't always try to make my son pancakes, but when I do…I burn the s*** out of them #DadFails pic.twitter.com/SOONCDOr8R

— TimBabbComedian (@TimBabbComedian) May 14, 2015
9. This overeager mom.
When your mom forgets the day she gave birth to you… ???? #momfails pic.twitter.com/XeVa9iywlm

— Bre (@breanna_lee22) July 14, 2017
10. This mom who might have been distracted.
I should not be allowed to teach my children anything. #momfail pic.twitter.com/yWBhqOPo

— melissa suess (@mksuess) August 19, 2012
11. This mom got at least one thing right.
When you get home and realise your toddler has her shoes on backwards all morning…. #butivaccinate. Share your #parentfail photo! pic.twitter.com/mN3FH8Wwim

— Elizabeth Lampman (@ElizabethL) March 31, 2017
12. The maker of this…pancake?
13. This mom who was in the holiday spirit.
That time the marshmallow treat "wreaths" ended up looking like a nasal secretion #emergency.#momfail pic.twitter.com/Ppe3zncUaT

— Dr. Christina Johns (@DrCJohns) December 30, 2017
14. This parent who did what had to be done.
15. Parents out here having lots of pancake difficulties.
16. This parent who is now banned from bringing treats to school functions.
17. This dad who added a bit of extra padding to his baby's butt.
18. And this person who is the parent of the softest, smoothest baby around.
h/t: BuzzFeed