If you've been actually keeping up with KUWTK this season, you'd know that we're only moments away (aka one episode) away from Khloé Kardashian giving birth to baby True. Last Sunday, fans of the reality TV show saw how the entire family reacted to the moment they had learned Tristan Thompson cheated on Khloé—days before she went into labor.
The entire family found out in their infamous group text thread that they are all apart of. One by one, the show's producers showed everyone's reactions to the news and the video that had leaked.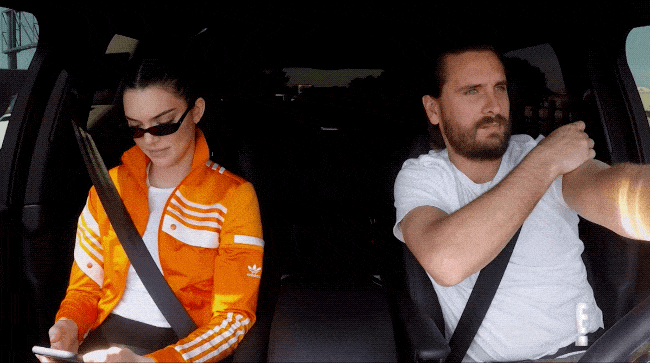 It turns out that Kylie Jenner, the youngest sister, decided to tell Khloé and send her the link because she thought it was better to hear it from her family—people who love and care about her—rather than gossip websites online.
Immediately following the news that her boyfriend and father of her baby had cheated on her—with multiple women—Khloé went into labor. Kris, Kim, Kourtney, and Malika hopped on planes as fast as they could to get to Cleveland, where Khloé was getting ready to give birth. The family thought that Khloé would want Tristan miles away from her hospital room, but she told them:
"Everyone wants me to make a decision [about ending the relationship] right this second but I just wanna go and focus on giving birth, and try to enjoy this, and as crazy as it sounds, I want to enjoy this with him. I don't want any negativity in the delivery room. I don't want anyone to talk about it and make me feel uncomfortable or make him uncomfortable. Let's just act normal and give me a minute."
In a newly released trailer for Sunday's episode in which Khloé gives birth, the Kardashians arrive at the hospital, and Tristan is just…awkwardly standing in a corner.
Obviously, Kim and Kourtney hugged everyone in the room except Tristan. They have to protect their sister, you know how this family works. But, Kim took it one step further when she started making gestures as Tristan behind his back—which, of course, cameras captured.
Khloé, being the strong and powerful woman she is, wanted everyone to drop the drama just for the time being as she was bringing a baby into the world. So, she confronted Kim and Tristan about saying hi.
So, they had a really awkward hug.
But, the moment he turned his back, Kim still made throat-slitting gestures.
I mean, what did he expect? He cheated on Khloé—who has been through SO DAMN MUCH with disappointing men (hint, hint, Lamar Odom). Tristan should have known better than to cross this family.
Kim shared in her interview:
The vibe in the room is calm. I thought there would be way more tension. As much as I want to go off, I just don't think it's the time. So I'm just going to keep it cute. I don't have to have a lot of interaction [with Tristan,] I just have to be there for her."
People on Twitter were obviously on KoKo's side.
https://twitter.com/lungelo_ngubo/status/1062787513557880833
This sounds so weird but watching the kardashians find it Tristan cheated on Khloe like actually made me cry ???????????????????????????????? it's the fucking worst feeling in the whole world as is but I can't imagine being 8 months preggers and finding something like that out

— Trisha Paytas (@trishapaytas) November 5, 2018
Tristan Thompson is a real definition of a piece of shit... you're out fucking around w girls while your girl is at home getting ready for the birth of your child! Not only you disrespected Khloe, you also disrespected your child. Wow. #pos #kuwtk

— Katrina Smith (@trinalicious14) November 5, 2018
Why sleep when you can get overly emotional about Tristan cheating on Khloe? pic.twitter.com/2tLlfEwqKz

— freckles and doubt (@CrumbledMoon) November 6, 2018
Watch the entire trailer here and tune into E! on Sunday night to watch the brand new episode live.