Why do people have to be so frustrating? Why do they do things like lie to their boyfriends or girlfriends, especially about things that can be easily confirmed? Ugh, who knows. Answering that is impossible because relationships are complicated. But there's one thing we can know for sure—if your significant other is lying to you, then the problem is with them and you can do better.
A Twitter user named Sana (whose username is @sanaisadumbass, lol) tweeted about her coworker who said she didn't use Snapchat because her boyfriend didn't use it, which, makes no sense to begin with. Because her boyfriend doesn't have it? What kind of weird relationship rule is that, and is it self-imposed or is he telling her she CAN'T have one? It's not clear (but it is stupid).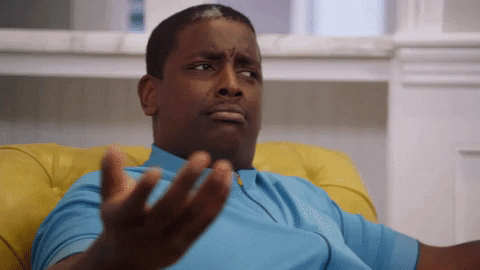 Anyway, the boyfriend said he didn't use Snapchat, but was busted when she downloaded the app and he was the first person to pop up. Not only that but he had a super high score, making the whole thing even worse.
Sana's tweet ended with "byeeeeeeeeeeeeeee," because seriously, this girl needs to get rid of her sorry-a** boyfriend STAT. The tweet went viral, and Sana kindly posted updates as the story unfolded.
First the guy said that he didn't use Snapchat much, but with a score like that, there's just no way that's true. Then he told his girlfriend that he'd break her phone if she didn't delete the app, and she responded (justifiably, imho) that she'd break his face.
He then told her that he only used the app to keep up with family living in Denver. When she asked him which family member, he said his mother. Hmm. Sounds suspicious, right?
Then the boyfriend turned things around on his girlfriend, which is absolutely infuriating. Instead of it being about his lying, he made it about her "snooping," and said he'd break up with her if she didn't stop acting "childish." And then SHE apologized to HIM and he called her "crazy." This is so completely typical of arguments with men.
Sana was worried that her coworker would find the tweets if they got big enough but someone else joked that she probably didn't have Twitter because her boyfriend didn't have Twitter.
Sis I am HOWLING DNDNSJ

— ???? (@sanaisadumbass) April 19, 2019
People on Twitter definitely thought she should dump him.
Throw out the whole mans

— danni (@Dbeanzy) April 19, 2019
— Buddahcuz (@RSFohHunnit) April 19, 2019
I feel bad for her but he really looking so SUS and she apologized. Ya she needs out of that one quickly ! He said he didn't have it so she wouldn't find his and she need to keep her SC and leave his ass. pic.twitter.com/85FcbK4A4i

— brisagrijalva (@ayyyo_bree13) April 19, 2019
He's gross and needs to go. Byeeeee

— a. (@mzsrose) April 19, 2019
They pointed out that what he was doing to her was abuse.
Bruhhh she in an emotionally abusive relationship

— ???????????????? ???? (@duaaxshahid) April 19, 2019
She needs out. Twisting like that is gas lighting. That's only gonna get worse. Making her think she's crazy for doing what her friends do and catching him at the same time? If I had a penny every time. I'd be close to buying a house ????????‍♀️ Good luck to your friend ????????????❤get her out

— kimberley rigby (@LootGirlOnFire) April 19, 2019
GASLIGHTINGGGGG

— ❀ victoria ???? edclv ❀ (@vickayyylmao) April 19, 2019
And that he sounded like a narcissist.
Yes to this, sounds like a narcissist to me. My ex was tunring it around like him…Until I found out he had dating apps on his phone & used them regularly.

— ♡ aya, and a flower ♡ (@Aya_Kenzo) April 20, 2019
That's controlling af omg. She needs to leave this man..

— Sarah Waddle (@sawahgrace) April 19, 2019
A few people tweeted that they'd had similar experiences.
Men are really trash for that like sis did his homework, cooked for him, grocery shopped for him and he would lie to her face. The sad thing is that she's in grad school and was getting played by a dude who couldn't function by himself

— ?????? (@tatum_mcclure) April 19, 2019
Sounds like my ex boyfriend ????????‍♀️ My advice to her: RUN LIKE HELL GIRL.

— KENИDI NOЯDHOFF. (@NORDHOFF_03) April 19, 2019
I had an ex like this… LEAVE HIM. He had a whole other double life I didn't know about, it's not worth the heartbreak… let that man goooo

— mads ????✨ (@maddssss_) April 19, 2019
So far there haven't been any more updates, but hopefully this woman decides to kick this guy to the curb.