There are two huge things happening in the world of fandom in April—one is the start of the final season of Game of Thrones on the 14th and the other is the release of Avengers: Endgame on the 26th. Saying people are excited for Endgame, which picks up where Infinity War ended, would basically be the understatement of the year. People are LIVING for this film.
InfinityWar ended with some major characters (see, no spoilers) presumably obliterated. Because of all the anticipation, Marvel is keeping a zipped lip about any details (did they really die?), but Chris Evans, who plays Captain America in the franchise, did talk a bit about it in an interview in the new issue of The Hollywood Reporter.
"It's a good one. It's a real good one," Evans said, and revealed that he's already seen the first hour of it. "This one's really good. I choked up like three times."
What?? Holy moly, if Evans cried three times and he already knew what was going to happen, what does that mean for the rest of us? HOW ARE WE GOING TO MAKE IT THROUGH?
People on social media predicted their weepy futures and panicked.
right no but if chris evans cried and he has already seen the script and acted in those scenes how are any of us meant to cope with #AvengersEngame

— Pettywise🎈 (@CourtneySynster) March 27, 2019
But that's not even the only thing Evans has said about the fourth Avengers movie. In an interview with BuzzFeed News in 2014, Evans, then filming the second Avengers movie, Age of Ultron, said, "So halfway through! I mean, I'm going to miss these when they're done."
So does that mean Captain America is going to die in Endgame?? There are rumors galore that it is, indeed, the end for Evans' character, and Evans' Marvel contract being up after Endgame doesn't do much to make people think there's any way he's going to be sticking around.
Plus, after filming wrapped in October 2018, Evans tweeted that it was an honor to have played Captain America for 8 years.
Officially wrapped on Avengers 4. It was an emotional day to say the least. Playing this role over the last 8 years has been an honor. To everyone in front of the camera, behind the camera, and in the audience, thank you for the memories! Eternally grateful.

— Chris Evans (@ChrisEvans) October 4, 2018
So back to the Hollywood Reporter interview. When Evans was asked if he watched Endgame until the point where Captain America dies, Chris jokingly said, "Right, exactly.After I die by Tony's hand, I just said, 'You know what? I can't watch this.'"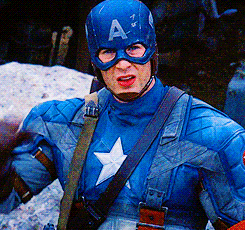 And later, when asked if he'd choked up while watching Endgame because Captain America dies, he answered, again, jokingly (because come on, he's not really going to give it away!), "Right. It's hard. Seeing my own death." He added, "It's going to be a long movie, that's for sure. The first edit clocked in over three hours. My funeral's like an hour."
Twitter users have some pretty strong feelings about this.
me coming after chris evans for having the nerve to joke about steve rogers dying pic.twitter.com/E4VOrhIQaA

— kim (@caroIsteve) March 27, 2019
me @ the tl joking about steve dying vs me @ chris evans joking about steve dying pic.twitter.com/93tEcbUXkr

— beth (@wintrweb) March 27, 2019
Chris Evans really out here "joking" about Cap's death scene pic.twitter.com/FlcmFoPXCC

— ChrisEvans Reactions (@CEvansReacts) March 27, 2019
Chris Evans isn't allowed to joke about Steve's death, only the fandom is allowed to joke about Steve's death

— tay saw captain marvel!! (@idkchrisevans) March 27, 2019
chris evans, you really have the nerve to joke about steves death? is everything a joke to you? pic.twitter.com/wayIf6PVrD

— y🦋 (@rgnork) March 27, 2019
chris evans joking about steves death pic.twitter.com/M5SqxGmCmM

— 𝓐♥ (@gyllevanseb) March 27, 2019
Other people read further into it.
my one brain cell: so if chris evans is joking about steve rogers dying then steve must be surviving

— kim (@caroIsteve) March 27, 2019
Me: obviously if Chris Evans is joking about Steve's death openly that means he won't die, right? But what if he knows that's what we'll think? What if he's just pretending because joking about it is easier than being sad? Maybe—

Them: Ma'am, this is a McDonald's drive through

— Ley saw Captain Marvel x2 (@heimdallstan) March 27, 2019
The last thing Evans said on the subject was, "I can't believe they even cut together a trailer, because so much of it is a visual spoiler. You'll see. A lot of the characters have"— before stopping himself and covering his mouth. "Probably shouldn't even have said that," he added.
But what does that mean?? Maybe just watch the trailer a couple hundred more times and you'll spot the clues…
h/t: BuzzFeed