In case you've been living under a rock and don't pay attention to the important things in the world, I'm here to inform you that Pixar has officially announced the release date of Toy Story 4 for next summer. In June 2019, all of our favorite characters are back together again for laughs, cries, and probably some Woody v. Buzz drama.
But, thanks to a brand new trailer released this week, fans are now informed that the new movie is also bringing a brand new character/toy into the mix. The trailer, posted on YouTube, shows our favorite OG's together again, dancing around and having a grand old time.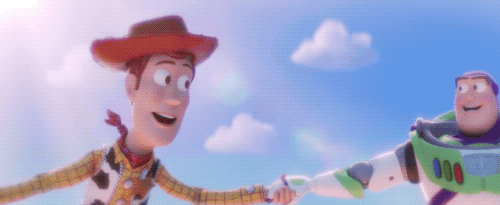 Until, a new toy–Forky–realizes he doesn't belong in this circle of friendship and love and causes quite the commotion.
Forky causes all the toys to fall, stumble, and fall apart.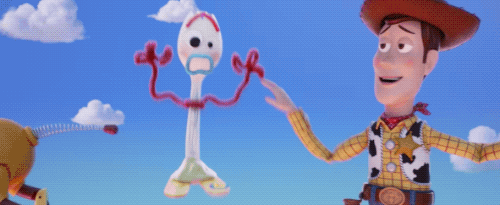 According to E!, the synopsis of the film's plot is that Bonnie, the owner of Andy's toys after Andy grows up and goes away to college, adds "Forky" into the mix of the toy's world.
"Woody has always been confident about his place in the world and that his priority is taking care of his kid, whether that's Andy or Bonnie. But when Bonnie adds a reluctant new toy called 'Forky' to her room, a road trip adventure alongside old and new friends will show Woody how big the world can be for a toy."
People online have been freaking out over the news that the movie is coming sooner than expected, and can't wait to see the film the moment it hits theaters.
Seeing Toy Story 4 at midnight like pic.twitter.com/lqN5uxpwag

— Henry (@seminole4life22) November 12, 2018
Me:"TOY STORY 4 IS COMING NEXT SUMMER!"

My 7 y/o daughter: "I CAN'T WAIT TO SEE IT!"

Me: "... Oh... Um... I guess you can see it too." https://t.co/gls6Wo8zms

— W. Kamau Bell (@wkamaubell) November 12, 2018
I don't care how grown YOU THINK you are....you know you're excited for Toy Story 4. pic.twitter.com/fs1POkLOjE

— itsthatguykyle (@itsthatguykyle) November 12, 2018
Me pulling up to Toy Story 4 pic.twitter.com/s1CipzQxoz

— kyle Lowry a spazz (@Scamron_Giles) November 12, 2018
WHAT THE FUCK THERES GOING TO BE A TOY STORY 4 SINCE WHEN OMG OMG OMG

— Emmettia ♡ (@purposehes_) November 12, 2018
https://twitter.com/Superfried_rice/status/1062023540554129409
Toy Story 4 trailer... Omg my childhood is back!!! Can't wait to watch it next summer. ????

— Denise Zacarias (@zacariasdenise) November 12, 2018
https://twitter.com/PokmonPhil1/status/1061969554635661313
WHY IS THIS POSTER SO SAD AND WHY DO I FEEL LIKE TOY STORY 4 ISNT GOING TO BE HAPPY ENDING PLEASE SOMEONE EXPLAIN #ToyStory4 pic.twitter.com/c6MGmy6oqF

— ???????????????? (@nasalullaby) November 12, 2018
TOY STORY 4 trailer...my heart is shakin ♥️♥️♥️♥️

— Jessica Andrea (@itsJessAndrea) November 12, 2018
I'm so excited for Toy Story 4! The Buzz on it is giving me a Woody.

— John Melendez (@stutteringjohnm) November 12, 2018
OMG. ** breathes heavily **https://t.co/VN7kuO2ZM9

— Jason Owens (@CrizzleColts) November 12, 2018
TOY STORY 4!!!! #Excited

— Danny Bernie ???????? (@DannyBernie_) November 12, 2018
Toy Story 4 hits theaters June 2019, for all you '90s kids who cannot wait.
#ToyStory4 opens in theatres June 21, 2019. Watch the @ToyStory 4 teaser trailer: https://t.co/xTdZZS0Iyy pic.twitter.com/FVqUEI0itk

— Pixar (@Pixar) November 12, 2018