As many Grey's Anatomy fans know, Season 15 is on the way over from Shondaland. While some complain that the show should have ended ages ago, there are others (like myself) who still loyally watch every week.

As Season 15 is on the way, ABC dropped a short, but jam-packed trailer to get fans excited for the 2-hour (yes I said 2-HOUR) premiere. Brace yourselves, things look rather crazy.
? 2 HOURS of EVERY FEEL!!! Are you ready?? ? #GreysAnatomy pic.twitter.com/QxfI9RN9i4

— Greys Anatomy (@GreysABC) September 11, 2018
So, let's see what we have here…
A) Something happens in the operating room (possibly a death?!?)
B) There are not one, but two hot new doctors joining the team–one of which is the first openly gay doctor on Grey's.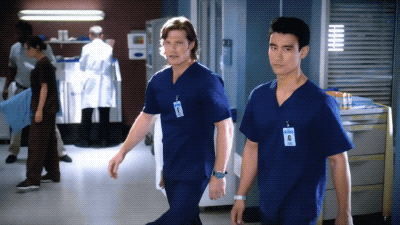 C) MEREDITH AND DELUCA?!?!?!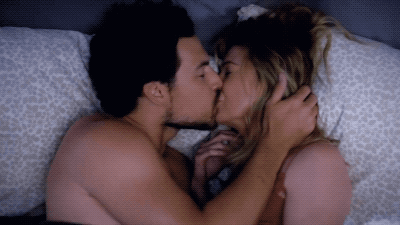 AND, that's not even mentioning the Teddy/Owen situation where Teddy might be pregnant with his baby, right after Amelia realizes she does want to be with Owen. Also, what about Jackson and Maggie's weird "family" love/relationship? Also, also, what is Miranda doing while Teddy "takes over" for her? Also–MEREDITH AND DELUCA?!?!?
Now, I'm not the only fan who is freaking out. In fact, Twitter has been flatlining over the new information since…well…since it went live.
Did greys anatomy really put Meredith and DeLuca together….. pic.twitter.com/agqCvHcu0C

— ?????? ⭐️ (@geminimija) September 11, 2018
HOY BAKIT MAY MEREDITH AND DELUCA THING GOING ON SA SEASON 15 BAKET ASRJCKFL LDHSKWHCZKSL

— auxy (@bauxilian) September 11, 2018
*flips over table and walks away*
*returns and gently props table back up knowing Grey's Anatomy owns my ass and I'll love this season anyway* pic.twitter.com/k5s8w60BjA

— Nora Dominick (@noradominick) September 10, 2018
Some days I do not regret that I'm still watching Grey's Anatomy FIFTEEN seasons in. pic.twitter.com/LqchRsaRhL

— A.B. (@AlannaBennett) September 11, 2018
I did not keep up with greys anatomy this long just to see DeLuca and Meredith become a thing!!! THE DISRESPECT

— Alexis? (@alexis__0912) September 10, 2018
of my got damn babies) AND MEREDITH IS AT LEAST 40 WITH FOUR KIDS, A DEAD HUSBAND AND A LOT OF OTHER EMOTIONAL BAGGAGE. AND FUCKING ANDREWS GIRLFRIEND JUST GOT FUCKING DEPORTED SO WTF IS MANS EVEN DOING?! But I'll probably get a sex scene out of it, so I'll live ig

— gettingbodiedbutnotcatchingbodies (@bigdaddykay931) September 11, 2018
OH MY GOD MEREDITH AND DELUCA WHAT WERE YOU THINKING

— emma ?? (@averagejap) September 11, 2018
Okay season 15 trailer of Greys is…CRAZY, I'm ready

— Cortlin Bourque (@babycort) September 11, 2018
They really started that promo with CHASING CARS playing and ended it with Meredith and Deluca in bed together………………………………. pic.twitter.com/YqlXcHlvWs

— carly (@CarlyNeely) September 11, 2018
OMG THE GREYS ANATOMY SEASON 15 TRAILER pic.twitter.com/4NEYZwhjT9

— Jazamine (@poshspice__) September 11, 2018
Soooo I watched the trailer for season 15 of Greys and I just wanna know why THE FUCK MEREDITH IS SLEEPING WITH DELUCA

— lexie grey (@k_merrrr) September 11, 2018
The new grey's anatomy season's trailer left me shocked ? wtf did Meredith do ?? giiiiiiiiirl September 27th needs to hurry up

— sativa ✨? (@oumysar) September 11, 2018
HOLY FUCKING SHIT NAKAKALOKA ANG TRAILER NG SEASON 15!!!!!!! THERES A NEW ASIAN DOCTOR AND OH MY GOD MEREDITH AND DELUCA WHAT THE FUCK????????? CRAZYYYUY CANT WAIT!!!!! #GreysAnatomy @GreysABC

— Sean (@TNZYPh) September 11, 2018
|| why is DELUCA FUCKING MEREDITH IN THE PROMO I LITERALLY JUST SCREAMED

— —- ?????? ????????. (@ofhurricanes) September 10, 2018
Me watching the @GreysABC season 15 trailer pic.twitter.com/Y6Q7WeWYbt

— Amanda Richardson (@amandarichh) September 11, 2018
Meredith's like a million years old kissing Deluca. I can't. pic.twitter.com/6Xi2ebw5wR

— Victoria (@detbensonn) September 10, 2018
Did y'all see the trailer for Greys Anatomy ?? Meredith gone sleep with Deluca ???????? she know that's Maggie old freak ??‍♀️?

— Ambriel ? (@_dajourrrr) September 11, 2018