As the number of measles cases in the United States and worldwide continues to rise, one Pittsburgh teenager decided to show her mom how grateful she is to her for having vaccinated her and her siblings. So she bought her a cake.
In in a since-viral video posted to video-sharing app TikTok, 17-year-old Alyssa Jackson is shown surprising her mom with an ice cream cake that reads: "Thx 4 Vaccinating Us, Mom."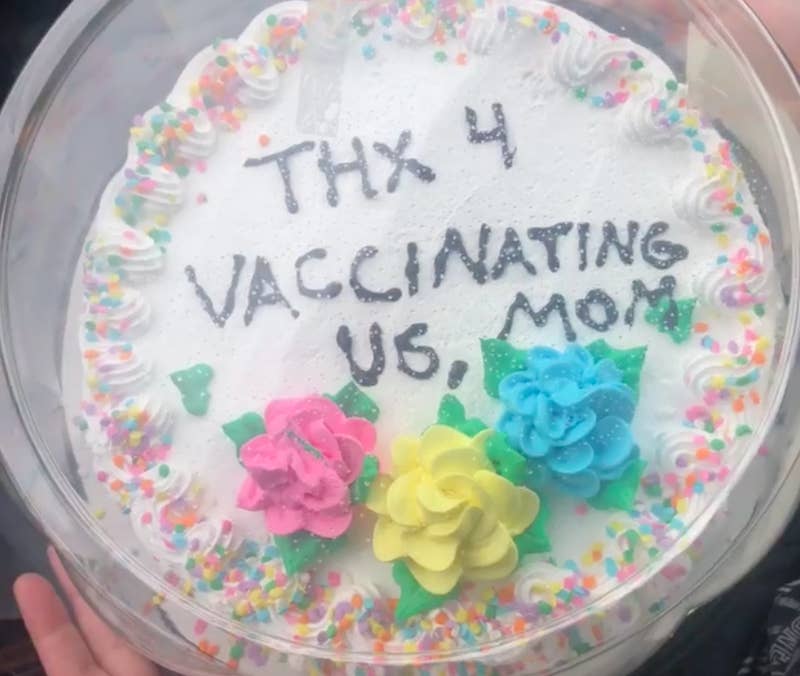 "My sister and I went to pick up my vaccination records so I can switch my school, and we stopped at Dairy Queen for lunch," Jackson said to BuzzFeed News. "After eating we were gonna get ice cream but decided it wold be funny to make a TikTok of us getting that cake."
Later on in the video—which has racked up over 74,000 likes on the app so far, Jackson and her sister decorate the cake with black icing, show documents of their immunization records as proof, and surprise their mom with the tasty treat.
While Jackson's mom was initially surprised—"You can't smash that in my face!" she said—she caught on to the joke fast and thought it was pretty funny.
"She had a good laugh and I honestly think she appreciated the gesture," the teen told Huffington Post, adding that "vaccinations are very important because you are not only exposing your child to certain threats. You are also bringing other children into it."
Though Jackson voice her opinions on vaccination, she told HuffPo that she also believes it is an individual choice and should not be mandated.
"I feel like [people] should do what they believe in. Even if that means they won't get vaccinated," she said. "It sucks, and they should do it, but I have no right to interfere with other people's lives."
Alyssa Jackson isn't the first young person to publicize her strong views regarding vaccination. Last week, 18-year-old Ohioan Ethan Lindenberger publicly slammed his mother's beliefs in testimony given to the Senate Committee on Health, Education, Labor, and Pension.
"I went my entire life without numerous vaccines against diseases such as measles, chickenpox or even polio. I grew up understanding my mother's beliefs that vaccines are dangerous," Lindenberger told the senators.
"My parents think vaccines are some kind of government scheme…Ive never been vaccinated for anything, god knows how I'm still alive." (He's since caught up on all his immunizations.)