NFL cheerleaders are some of the most beautiful women in the world. As are Hollywood actresses. But do you know which famous women are both?
Well, luckily for you we took the time to make this list…
1. Teri Hatcher (San Francisco 49ers)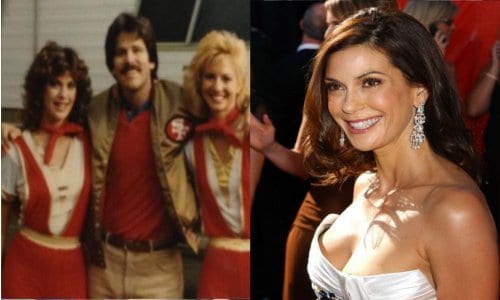 Long before she was Lois Lane and a Desperate Housewife, Teri was cheering on Joe Montana and the 49ers in 1984.
2. Stacy Keibler (Baltimore Ravens)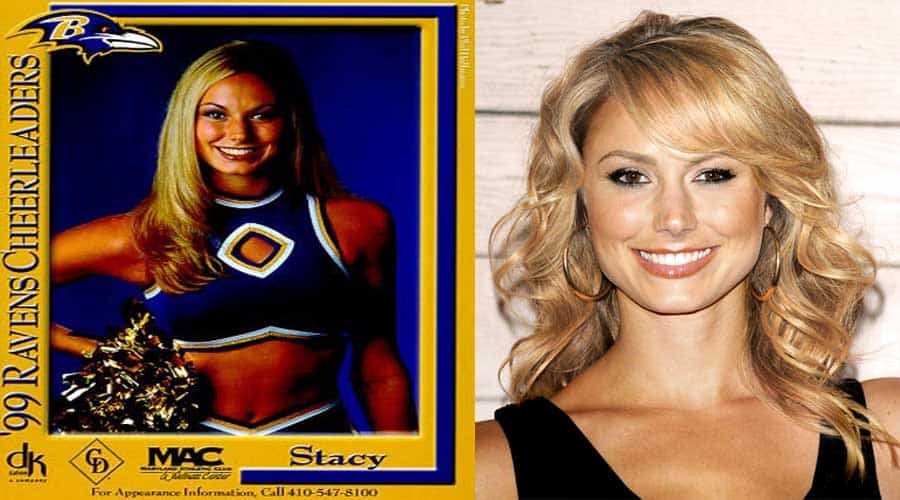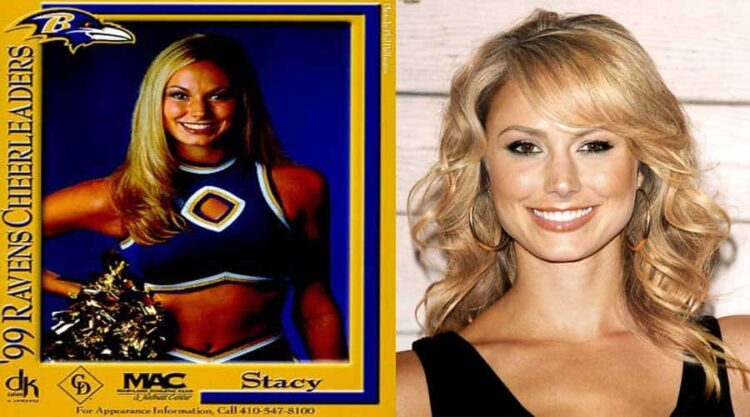 Before she was a WWE Diva and George Clooney's "lady friend," Stacy was squawking on the Ravens sideline.
3. Sara Shahi (Dallas Cowboys)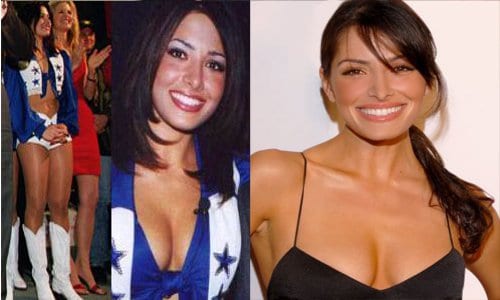 Prior to her steamy days on The L-Word, Sara was screaming the C-word on the Dallas Cowboys' sidelines.
4. Charisma Carpenter (San Diego Chargers)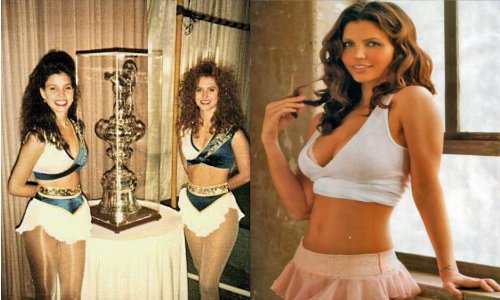 The former Buffy The Vampire Slayer star and Baywatch babe started by supercharging the San Diego Chargers cheerleading squad.
5. Phyllis Smith (St. Louis Cardinals)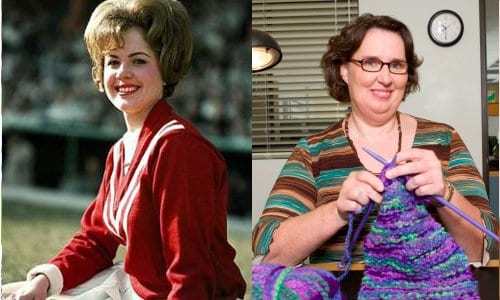 That's right ladies and gentlemen, the TV wife of Bob Vance of Vance Refrigeration used to cheer on the Cardinals.
6. Lisa Guerrero (Los Angeles Rams)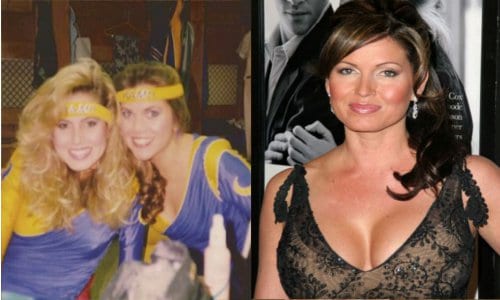 Lisa cheered her way from the sidelines of the Los Angeles Rams all the way into the job of sideline reporter for Monday Night Football. Then the Inside Edition correspondent made us all stand up and cheer when she posed for Playboy in 2006.
7. Kristin Adams (Dallas Cowboys)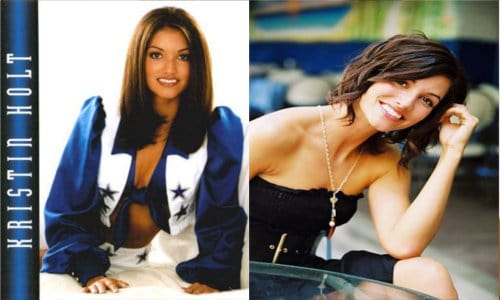 Kristin Adams (Dallas Cowboys) – The former Cowgirl was an America Idol semi-finalist in its first season and she has since hosted G4TV's Cheat and Poker Night on the Game Show Network.
8. Bonnie Jill-Laflin (Dallas Cowboys)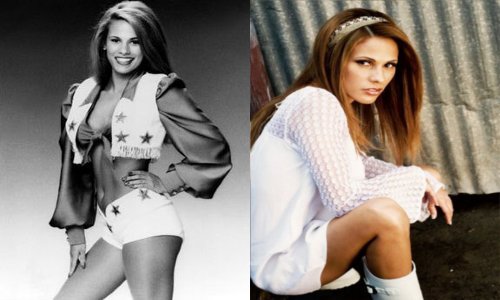 Before she was running on the beaches of Baywatch and appearing on Ally McBeal, Jill was Cowgirl in 1996. Jill is currently a front office member of the Los Angeles Lakers.
9. Jenilee Harrison (Los Angeles Rams)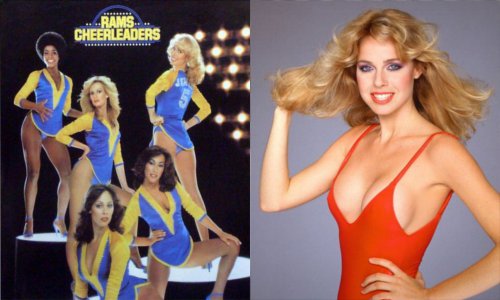 While he will always be known as the blonde who replaced Suzanne Sommers on Three's Company, Jenilee got her first big break being chosen for the 1978 Los Angeles Rams cheerleading squad.
10. Kiana Tom (Oakland Raiders)

Kiana's performances as a Raiderette led to "Kiana's Flex Appeal," her own fitness show on ESPN as well as several appearances on The Drew Carrey Show.
11. Tiffany Fallon (Atlanta Falcons)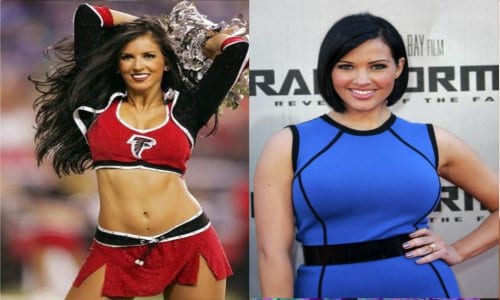 Prior to putting on her birthday suit for Hugh Hefner, the 2005 Playboy Playmate of the Year was cheering on the Falcons (if it's actually possible to cheer them on.)
12. Melissa Rycroft (Dallas Cowboys)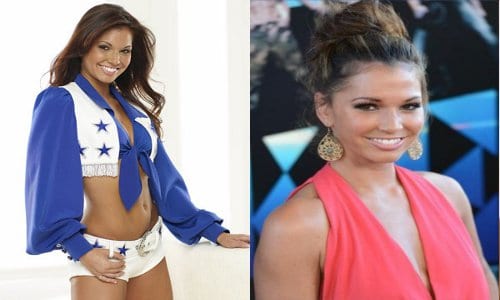 Melissa spent one season as a Cowboys cheerleader prior to becoming the chosen bride in the 13th season of The Bachelorette. Since then she's been on Dancing With The Stars and named one of People Magazine's "World's Most Beautiful People."
13. Amber Lancaster (Seattle Seahawks)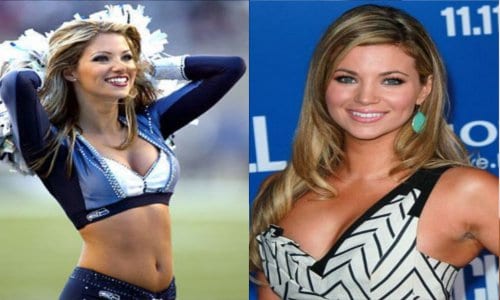 Amber spent five seasons on the Seahawks sidelines before she became a Barker Beauty favorite on The Price Is Right.
You may also like: 25 Most Beautiful Women In The World According To Google