This year marked the 20th anniversary of the very first Harry Potter being published. Two whole decades since we were introduced to the bespectacled 'Boy Who Lived' with a lightning scar on his forehead. The world just wouldn't be the same without Hogwarts' iconic wizard trio and all of the magical adventures J.K. Rowling created for us. This is exactly why we plan to pass on this love for Harry Potter for generations to come. In honor of our favorite wizards, here are just a few Harry Potter-themed products for the newest member of your muggle family.
*We hope you dig the products we recommend or just enjoy reading our content. In the spirit of full disclosure, we may receive a portion of the sales made on this page.
15. An adorable "Snuggle This Muggle" onesie set.
Encouraging Review: "This was such a cute outfit. The fabric was comfortable for baby and was exactly what I was looking for." – Krista & Tommy Huff
Get it on Amazon
14. This Baby Muggle car decal to remind drivers that you're carrying precious cargo.
Encouraging Review: "It looks exactly like the picture and has stayed on our car ever since we have gotten it so no complaints! One tip is when you are putting on your car you should go slow and make sure all the edges are sticking to your vehicle before taking off the paper coating. We love it!!" – Jennifer
Get it on Amazon
13. A Siriusly magical baby bib.
Encouraging Review: "Adorable, perfect for the baby who happens to have Harry Potter fans as parents. It is soft, easy to put onto and take off of the baby and washable (with babies… bibs and clothing tend to need washing often..)" – Mythral
Get it on Amazon
Encouraging Review: "I ordered two of these for each of my granddaughters. The onsies are made well, fit perfectly and the girls look adorrable in them." – S.G.

Get it on Amazon
11. This Dobby art print with a special message about friendship that will be the perfect addition to any nursery.
Encouraging Review: "I got a few of these posters I love them they work nicely with my daughters harry potter nursery. They are colorful and I love the messages. Perfect for any harry potter fan looks so nice when framed too." – Em
Get it on Amazon
10. A tiny beanie for the newest muggle born family member.
Encouraging Review: "Mom to be was so excited to receive this and she just had the baby and it looks so cute on him." – Bryanne

Get it on Amazon
Encouraging Review: "This is adorable. Comfortable, sized right and nice sturdy cotton. This sleeper will be worn for a long time." – Karen O.C.

Get it on Amazon
8. A pair of too-cute wizard leggings featuring Harry's glasses and beanie.
Encouraging Review: "Got them as a gift for a baby shower and she loved them! They're super cute!!"  – Angelica Trejo
Get it on Amazon
7. These teeny Harry Potter booties that will make every wizarding fan squeal.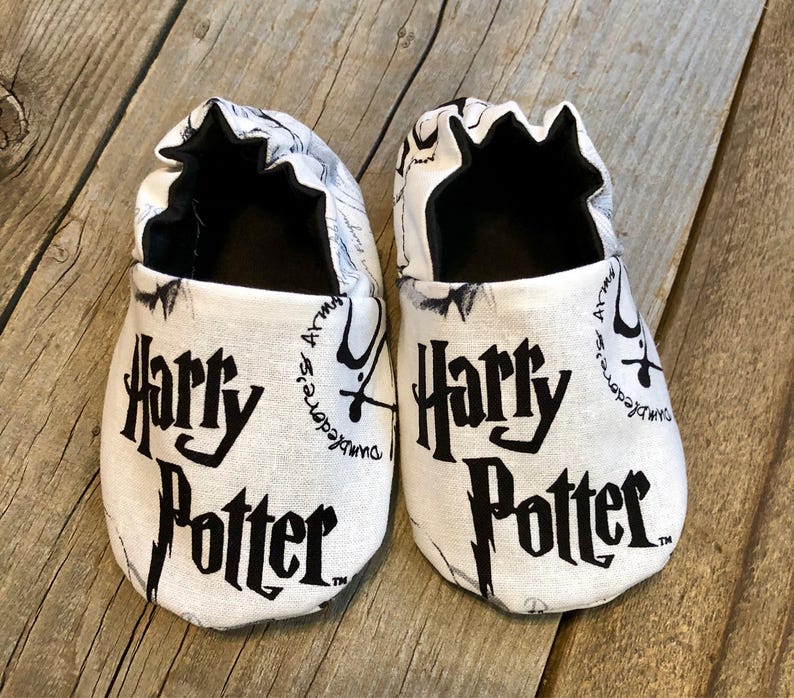 Encouraging Review: "Bought as a baby shower gift for a friend who loves Harry Potter! Very cute and for what they are good quality and are exactly what is pictured. Production and shipping took about 2.5weeks so make sure you order in ample time if giving as a gift!" – mistrickland13
Get it on Etsy 
6. This learning ribbon blanket covered in Harry Potter memorabilia.
Encouraging Review: "Perfect for little hands to hold at night. My 17-month-old doesn't go to sleep without it. It's also small enough to where he can't drag it on the floor and get it dirty but big enough to cover his legs at night. A great solution to a large blanket in the crib." – Amazon Customer
Get it on Amazon
5. This copy of The Tales of Beedle the Bard that mom can read to her little one before bed.
Encouraging Review: "This thing is SOOOO cool! It's really authentic looking and fun addition to any Potterhead's collection. It includes a beautiful outer "box" that is a mock leather bound edition, and inside a book of The Tale of Beedle the Bard which is encased in a velvet back for protection. The illustrated prints are incredible. A great purchase!" – Bookapotamus
Get it on Amazon
4. This set of Harry Potter hat and scarf.
Encouraging Review: "Super cute!! Bought the matching swaddle blanket!!! Love them!!" – Trisha Weaver
Get it on Amazon
3. An unbearably cute Dobby costume they can wear year round.
Encouraging Review: "The dobby elf ears are really well made, we are wearing them on our daughter for Halloween can't wait to use them." – Natasha Mcallister

Get it on Amazon
2. This doe Patronus blanket inspired by Snape's unyielding love for Lily.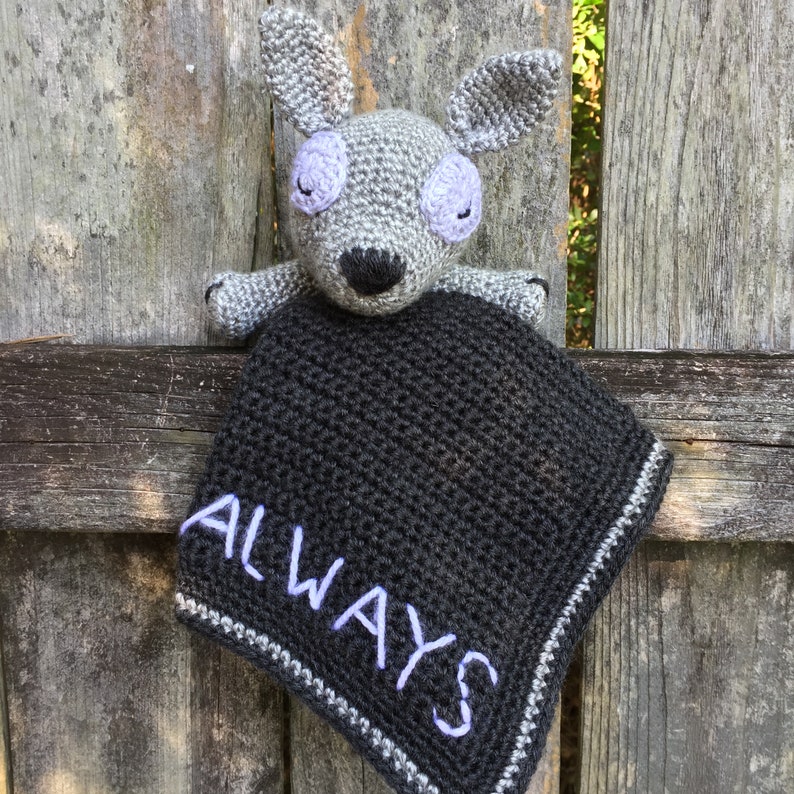 Encouraging Review: "Beautiful! I love it. It shipped so quickly. Definitely will be ordering more." – Tasha Jade
Get it on Etsy
1. A plush Dobby that your little one will never let go of.
Encouraging Review: "Absolutely perfect! So cute, beautifully crafted. The recipient loved it and so did I." – Yvonne Collins
Get it on Amazon