Back before we had smartphones and social media, there wasn't really a way to immortalize the truly hilarious failures of our peers. Fortunately, it's 2019, and every mortifying human moment has the potential to become a viral sensation.
Just ask this poor girl who was videoed while accidentally dropping a giant tub of ranch dressing and is now trending all over Twitter.
On Monday, Twitter user @BorboaGrant shared a hilarious video of her coworker spilling ranch dressing.
So a couple days ago, one of my coworkers accidentally let 22 quarts of ranch dressing slip out of her hand… pic.twitter.com/cMDwUAqfOZ

— G (@BorboaGrant) March 18, 2019
Like, really spilling it.
Before long, the video went viral and has since garnered over 7 million views.
It even inspired other people to share their own amazing restaurant fail videos.
Another angle! pic.twitter.com/Mduc73Vznw

— its me (@whos_jared) March 19, 2019
man i wonder who would do that 🤔 pic.twitter.com/08Csv3u5qU

— ash (@ashton_risser) March 19, 2019
18 quarts. glad i'm not the only one 😪😪 pic.twitter.com/HBfjSLvUin

— kayla demkiw (@kkaylademq) March 19, 2019
I mean its bbq sauce, but still one of the funniest things that happened to my co worker😂😂 pic.twitter.com/FhJl74TulM

— ♡ Gabriana ♡ (@Ilovejwamcp143) March 20, 2019
You ever slip carrying a 5 gallon container of margarita mix? 😂😂 pic.twitter.com/7FgIC0j8Wf

— Chris Gaertner (@cgaertner_32) March 19, 2019
Some were more mortifying than others…
I was minding my own damn business pic.twitter.com/cijhUitdgV

— Kenz (@mckenzie_raquel) March 19, 2019
— Kenz (@mckenzie_raquel) March 19, 2019
I had no chance 🤦🏻‍♂️🙃 pic.twitter.com/lOfdflv719

— Tony Granados |-/ (@tttiger82) March 20, 2019
Behold my version. The door slammed the shelf and knocked every cup over 💀 pic.twitter.com/SVGBFDr60M

— Chula (@AP7__) March 20, 2019
If you've ever worked in the service industry, you know the struggle all too well.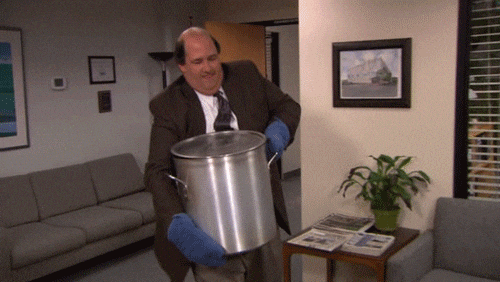 h/t Twitter