Do you ever find yourself looking through a Brookstone or Sky Mall catalog and imagining your house full of super-human appliances? Ah yes, this is my state of the art Smart Oven 9000 that cooks any meal in 5 minutes. While I'm not sure that invention is coming out anytime soon, there are a slew of new futuristic appliances on the market that are totally worth splurging a little extra on. These are just a few of my favorites.
*We hope you dig the products we recommend or just enjoy reading our content. In the spirit of full disclosure, we may receive a portion of the sales made on this page.
17. This Bissel BarkBath that's great for pups who don't like bath time.
The perfect gadget if your shower is starting to look like a grooming tub.
Get it on Amazon for $79.99 (38% off)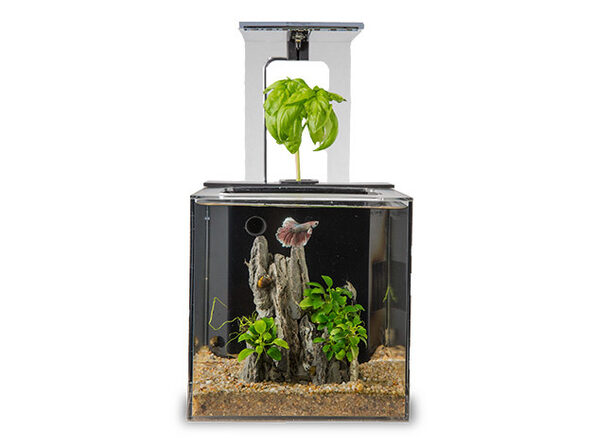 Add a little life to your desk space with little to no maintenance. Fish not included.
Get it on Joyus for $99.99
15. This Braun PureMix jug blender that comes with a nifty smoothie to-go set.
A perfect appliance for the eternally late person like me.
Get it on Amazon for $97.00 (49% off) 
14. An utterly mesmerizing makeup brush cleaner that looks like it's on a mission from the motherboard.
Sent to observe human behavior and report back while also cleaning your makeup brushes.
Get it on Amazon for $149.00
13. This Turbo Dog treat-tossing WiFi camera that lets you keep an eye on your pup from work.
You didn't chew up the sofa? Yay! Here's a treat.
Get it on Amazon for $199.99 (20% off)
12. This futuristic tabletop greenhouse you won't be able to stop staring at.
Maybe this plant actually stands a chance of surviving.
Get it on Amazon for $44.99 
11. This fancy schmancy sous vide that comes with Wifi connectivity.
Show this baby off at your next dinner party and you'll totally pass as an adult.
Get it on Amazon for $99.99
10. A sleek smart scale and recipe app made specifically for crafting the perfect cocktails.
Should probably taste test a few..you know, for science and stuff.
Get it on Amazon for $99.99
9. This affordable robotic vacuum you can control from your smartphone.
Sit back, relax, and watch your apartment get cleaned.
Get it on Amazon for $129.99 
8. A super high-tech grill thermometer that can monitor four separate temperatures at once.
I don't grill, but I might start just so I can use this.
Get it on Amazon for $119.99
7. This Alexa-compatible smart feeder that can pre-portion your pet's meals and schedule feedings.
Alexa, feed my baby, please.
Get it on Amazon for $349.99