America's hunger for the 2018 Winter Olympics reached new heights today as ABC 7 in Chicago confused Pyeongchang with P. F. Chang's China Bistro and the internet is having a field day with the graphics blunder. A spokeswoman for the local news affiliate, Jayme Nicholas apologized for the unfortunate mistake and told the Chicago Tribune the graphic was merely a "mix-up." Apparently the "P.F. Chang 2018" graphic was supposed to be used for a "satirical piece" created by sports anchor Mark Giangreco on Friday. Talk about a news station not using their collective noodles.
This epic news blooper also begs the question, why don't we have a food-eating Olympics outside of Nathan's Hot Dog Eating Contest? A two-week event dedicated to eating ridiculous amounts of foods from around the world seems like a pretty brilliant idea that is ripe for tons of corporate sponsorship. We could call it "The F Games" and medals would, of course, all be made of chocolate. Come on, society, I can't keep giving you these amazing million dollar ideas for free. Get your act together, would you?
P.F. Chang's was quick to respond via Twitter and clear up the confusion about their involvement in the 2018 Winter Olympics, putting a "lettuce wrap" on this potential scandal.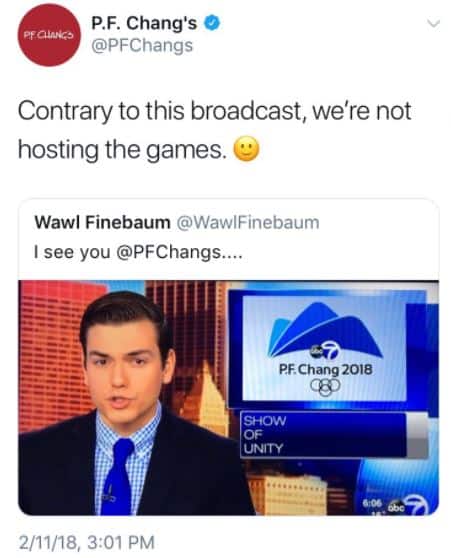 via P. F. Chang's
The internet, however, did it's best to give the local news station the roasting it so richly deserved. Below are some of our personal favorites so far. The "Dynamite Shrimp" of reactions, if you will. Okay fine, they're technically the "Singapore Street Nooodles" of Twitter reactions, I was just testing you.
How Lo Can You Go?
It's not every day you label somebody a genius, but today is that day for Rob Duguay. It's also proof that revenge can be a dish best served piping hot with shrimp, chicken, pork, or vegatables.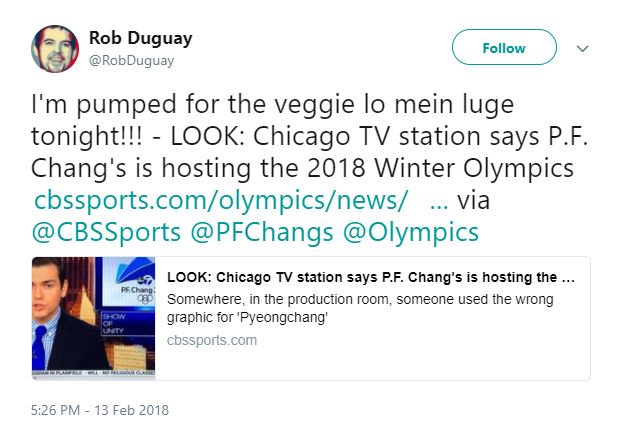 via RD
We Are The Food
Is it possible that P.F. Chang's is the missing link to world peace?
via PMS
Eat Like A Champion, Today
Twitterer, Chris Jones has officially qualified himself for the 2018 Food Olympics.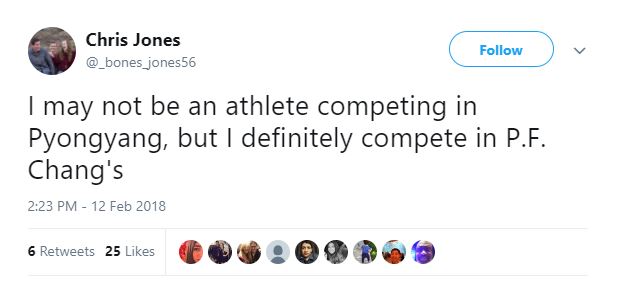 via CJ
Have Fried Rice, Will Travel
Zach Osip also made it clear what it would take for him to renew his passport.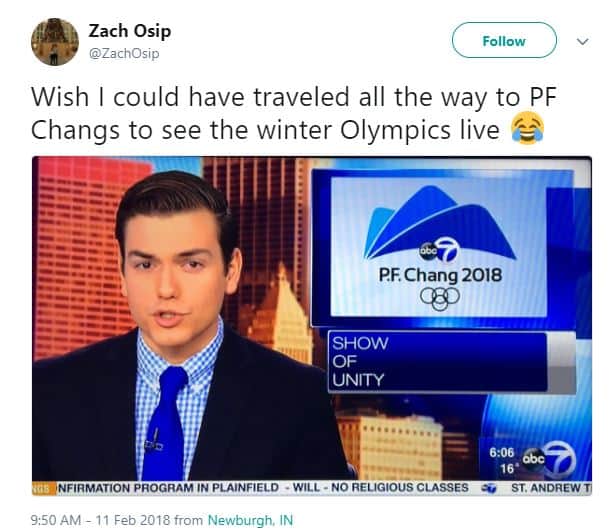 via ZO
 [h/t CT]