Playing April Fools' Day jokes on kids is a questionable practice. Kids, who already have trouble separating reality from pretend, can have a hard time understanding.
YouTubers Cole and Savannah LaBrant went a bit too big (and mean) with their April Fools' Day prank on their 6-year-old daughter, Everleigh. Especially since they pulled the prank not on April 1 but on March 31 and also especially because she's hi, a 6-year-old girl.
Cole and Sav LaBrant, for those who don't know, are vloggers who were each famous separately, and then they got married and had kids and combined their efforts into one YouTube channel, The LaBrant Fam. That family consists of Cole, Sav, Everleigh (Sav's daughter from another relationship and the target of the prank in question), and Posie, the couple's 3-month-old daughter.
Oh, and Carl, their adorable Pomeranian who (like the rest of the family) has his own Instagram account. He figures quite prominently into this story.
The LaBrant Fam posted a video on Monday, April Fools' Day, called "We Have to Give Our Puppy Away… Saying Goodbye Forever :(."
The video's description is "We didn't think Everleigh would be this sad about it…"
You can see where this is going. No! Bad parents! Bad!
What kind of monsters are these people? Well, watch the video and see for yourself. It's basically a regular vlog until about the 7-minute mark, where we see Everleigh face down on a couch.
Everleigh is sad but doesn't want to say why.
So Sav explains that they've decided they can't keep Carl anymore because they're not around enough, and he keeps going to the bathroom everywhere, and they don't feel like they're allowing him to live his best life.
But just look at Everleigh's face. AND CARL'S FACE. It's too much.
Sav starts to smile at the camera, but Everleigh doesn't see and still thinks she's going to lose her wee pup.
After a while (way too long, imho) Cole says they have one more thing to tell Everleigh, and Sav whispers "April Fools!" into her daughter's sad ear. Can an ear be sad? Watch the video and you tell me (answer: yes).
When Everleigh hears this, she's not happy or laughing. She even starts crying again. It's a lot, okay?!
Immediately after they tell her, Cole looks into the camera and wonders if they went "too far."
Everleigh gets her revenge in the remainder of the video, and at the end, Sav tells viewers that if the prank "offended any of you guys, she's okay."
"She cried for like two minutes and she's the happiest kid ever now, we prank each other all the time," she said.
Comments are disabled on the video, but a lot of people on social media felt that the prank was too mean.
Cole and Sav played a prank on Everleigh and made her think they were getting rid of Carl and they kept it going for so long and she was crying the whole time ?

— leighton (@brinkleykersey) April 2, 2019
I also hated that while she was sobbing Cole keeps asking her "what's wrong?" Like he had no idea. Think of how frustrating it would be for your dad to tell you devastating news and pretend like he didn't get why you were upset

— acaca ???????? (@bananabread117) April 2, 2019
Also the devastation of losing a pet is so so terrible, especially for a child. To me that prank is the same as if they had said one of her grandmas died ????????‍♀️

— acaca ???????? (@bananabread117) April 2, 2019
They also traumatized a young child by saying their giving him away. She was in tears and all sav and Cole did was laugh and ask why she was crying. She was crying because she thought they would take her dog away. 2/2

— Liv (@jarodjosephx) April 2, 2019
YouTube culture is so gross. These people are famous; think about what must be happening under the radar to kids with parents trying to "make it"

YouTubers Cole And Sav Pranked Their 6-Year-Old By Pretending To Get Rid Of Her Puppy And People Are Furious https://t.co/Qv8shZwuB0

— Brandon Wall (@Walldo) April 2, 2019
Ugh. Hopefully the family won't try anything like this again in the future. People, stop traumatizing your kids for views!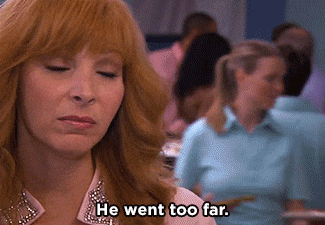 h/t: BuzzFeed