One of the most miraculous things about Twitter is its uncanny ability to perfectly articulate exactly how you feel about various life events and realities. I mean, the world might be going completely mad — but it's comforting to know that there are at least a few sympathetic people out there who can comprehend your weirdness.
If you're feeling misunderstood and disconnected, then take a gander at these tweets and memes. Your strangeness might feel personal, but I guarantee that it's more relatable than you might think:
18.
I have the Amazon cart of a much wealthier person.

— MaleficentMomMe (@xosm) November 15, 2017
17.
Him : "Where would you like to
have dinner tonight ?

Her: "I don't care. It doesn't
really matter.

Narrator: "But she did care …. and it
did matter"

— A Shot of Steve™ ⚡ (@SteveKoehler22) February 15, 2018
16.
Me on the outside vs me on the inside pic.twitter.com/WqIO6Fh0ZB

— Matteo (@MatteoGenota) February 12, 2018
15.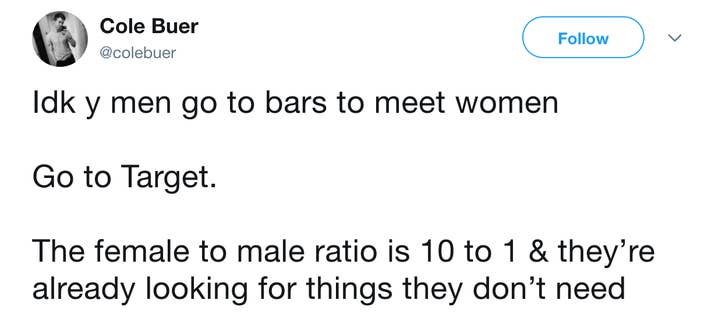 14.
At .5 miles from home your gps should just be like You good?

— Mary (@AnniemuMary) February 14, 2018
13.
Has Anyone Seen My Phone Charger?

~An autobiography

— The Robfather™ (@thatUPSdude) February 16, 2018
12.
I'm so angry right now that I could strategically throw my phone at a safe spot on the couch.

— Chad Read (@squirrel74wkgn) February 20, 2017
11.
'That snap chat filter is so cute'

-men lying to women

— The Opulent Couch (@occupied_stall) August 5, 2017
10.
I feel like a fast learner until I'm trying to use a hotel shower.

— jess (@jessokfine) December 6, 2014
9.
pterodactyl: *swallowing me whole*

me: wait why is the "p" silent

— Alien Sky (@ClichedOut) February 15, 2018