Last night at midnight, Taylor Swift released the first tease of her highly-anticipated new album 'TS7'. The artist left her Reputation days in the dust and debuted a music video for the track "ME!" featuring Panic! At the Disco's Brendon Urie.
Not only are fans ecstatic for new T-Swift jams, but they're also intrigued by the potential secret meanings within the video that some are saying indicate Taylor is a lesbian.
Over the years, a collective group of T-Swift fans has speculated that the artist might potentially be a "secret lesbian" or, at the very least, not as straight as she seems.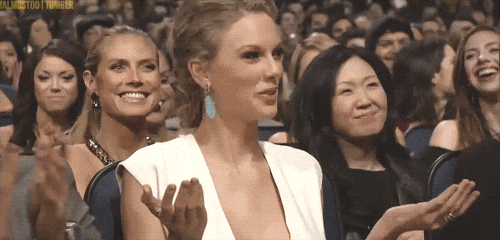 There has been some evidence to support this theory including Taylor's supposed makeout sesh with BFF Karlie Kloss.
Karlie, who is now married to a man, has been Taylor's longtime gal pal and possibly more?
Fans of the pair dubbed them "Kaylor" which later turned into "Gaylor" when more speculation about Swift's sexuality came about.
It is absolutely incredible the speed at which I went from not caring at all about Taylor Swift's little countdown to becoming an avid #Gaylor conspiracy theorist. This has taken over my life.

— Sarah Mimms (@mimms) April 25, 2019
In fact, an entire community of Gaylor truthers exists online. They don't necessarily believe the pop star is a full-on lesbian, but they are sure that she's not straight.
But the theory really started flooding mainstream media when T-Swift announced the countdown for her latest album, TS7.
"Oh and there's a secret in the video I've been keeping in for months – let's see who can guess it." – Taylor via YouTube chat

— Taylor Swift News / ME! (@TSwiftNZ) April 26, 2019
Gaylor truthers anticipated the artist's latest release would be paired with a big coming out announcement.
— Nat ?? ME! / TS7 APRIL26th / SWIFTSÉ BLINK (@nat1989swift) April 26, 2019
However, when T-Swift did not announce her queerness to the world, fans came up with other evidence to support their theory.
Like the abundance of rainbows posted on her IG.
And the fact that she dropped her newest hit "ME!" on Lesbian Visibility Day.
Hmmm…curiouser and curiouser.
Not to mention, the time she changed her lyrics from "your midnights" to "HER midnights" in a video that went viral earlier this week.
And the hashtag she used when talking about new music.
It has taken me a mere 4 days to become absolutely Taylor obsessed and I will now never let the #gaylor theories go. Did you watch this video?! Did you see this hash tag?! #MeOutNow https://t.co/X8zStqCr6x

— Erin Sexton (@EKSexton) April 26, 2019
Melissa Etheridge: Yes, I Am
Ellen DeGeneres: Yup, I'm Gay
Taylor Swift: #MEisout

— Sarah K. (@SarahKomedy) April 26, 2019
Plus, the lyrics to T-Swift's new track seem curious…
no one:

queers on the twitter: "but one of these things is not like the others
like a rainbow with all of the colors there's a lot of cool chicks out there?!?!?? #gaylor confirmed?!?!???" pic.twitter.com/dOXu89SSI8

— Jen Gushue (@jengushue) April 26, 2019
2: "One of these things is not like the other, Like a rainbow with all of the colors, Babydoll when it comes to a lover, I promise that you'll never find another like me."

Cool so, she's saying she's not like the others, unique. But ALL of the colors? Like..genders? or what's up

— Jill Gutowitz (@jillboard) April 26, 2019
And the music video itself is full of innuendos.
She literally REJECTS A MAN'S PROPOSAL in this video lolllol https://t.co/tn6b0BoVMk

— Taydar Podcast (@TaydarP) April 26, 2019
Let us not forget the mysterious chicks either, which mimic photos of Swift and Kloss.
looks like i have to everything around here… pic.twitter.com/GdZFy3HuCU

— sophie (@pushyfemme) April 21, 2019
Or what about this fabulous suit!?
Please respect my privacy during this difficult time. #GAYLOR pic.twitter.com/2MizusYspj

— Marissa D. Barrera (@mdb2) April 26, 2019
Update: I've seen the suit pic. I'm going to bed. The conspiracy lives on.

— Marissa D. Barrera (@mdb2) April 26, 2019
And this dress has to be some kind of statement, right?
look at the dress (and how it looks like a certain part of the female anatomy) and the pink text in the background #TaylorSwiftME #gaylor pic.twitter.com/f3jofCO1yl

— Kanina pa, Karenina (@notalcibiades) April 26, 2019
Looks like the "Gaylor" tribe may have a point if you ask me. Regardless, T-Swift is a queen in our book.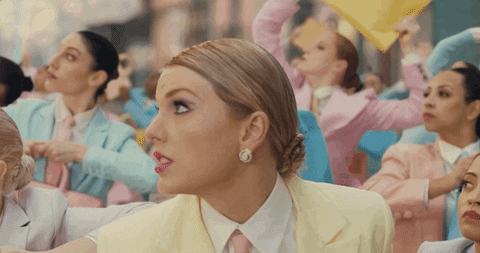 h/t: BuzzFeed