Ariana Grande has proven to the world that she is a force to be reckoned with. With her two latest albums—Sweetener and Thank U, Next—breaking records on multiple charts, it's no surprise that Coachella asked the Grammy-winning artist to headline the festival this year.
Grande experienced multiple technical difficulties the first weekend of the festival—Numerous guests had their microphones out of sync, making many of the performances sloppy.
But this weekend, Grande took the stage for part two and totally killed it.
However, much like Grande's personal life as of late, nothing is perfect. During her performance on stage, someone in the crowd chucked a whole ass lemon at her.
ARIANA SWEETIE IM SO SORRY ABOUT THAT LEMON BUT... I CANT BELIEVE CHRIS AND I SAW THIS RIGHT IN FRONT OF US JSKSJW pic.twitter.com/SoJvdEwQjn

— kayleigh (@KayleighPerezz) April 22, 2019
Seriously—who throws a f**king lemon???
Don't worry, Grande clapped back in the most mature way possible, saying: "

What the f**k? That's 'cause one of y'all threw a lemon at me. Sh*t."
did beyoncé throw that lemon at ariana ?? ???? lmao beychella impact is real ???? #arichella pic.twitter.com/YzDbca3a1N

— joseph ???? (@stussyjoseph) April 22, 2019
"what the fuck. that's cause one of y'all threw a lemon at me. shit" - ariana grande, 2019

— k⃞ y⃞ l⃞ e⃞ (@inmyheadkyle) April 22, 2019
People immediately began calling out the jerk who thought this was funny.
If you throw a lemon at Ariana Grande, you're a piece of shit

— FINNEAS (@finneas) April 22, 2019
ok who the fuck threw that lemon at ariana pic.twitter.com/gw27cvALqh

— ً (@sweetenerdreams) April 22, 2019
why are people throwing LEMONS of all things at Ariana? who just has a lemon with them at a music festival I'm confused

— Emmy ???????? (@snafumercury) April 22, 2019
What immature swine threw a fucking whole ass lemon at Ariana, what were they trying to achieve? That would of fucking hurt!! ELECTRIC CHAIR! pic.twitter.com/QXg15PIJMd

— bella (@arianasbella) April 22, 2019
But Twitter was also quick with the jokes, as usual.
https://twitter.com/ghostiindeluxe/status/1120224997526519808
the lemon when it was thrown at ariana #arichella pic.twitter.com/QHTlFLs7sU

— jamie (@jamjamgrande) April 22, 2019
i think we ALL know who threw that lemon at ariana on stage pic.twitter.com/Md0Debxh3D

— ???? (@getwckdsoon) April 22, 2019
victoria justice in the store before coachella getting a lemon to throw at ariana #arichella pic.twitter.com/uwKd73EhKO

— gabe (@iconicghostin) April 22, 2019
the coachella lemon when it hit ariana and looked up to see who it was

pic.twitter.com/fc2RcrRTHh

— sim, 40 (@DANCESlVAN) April 22, 2019
i know who threw the lemon at @ArianaGrande at #Coachella @itsSHANGELA pic.twitter.com/OCnuXRTyAj

— ???? (@capitalized) April 22, 2019
Somebody threw a lemon at Ariana!!!!! The beyhive is so petty ???? pic.twitter.com/RMoje3WLIe

— Gift From Virgo (@VirgoFrom) April 22, 2019
Love her or hate her, Ariana Grande is the queen of bouncing back. Even from a lemon.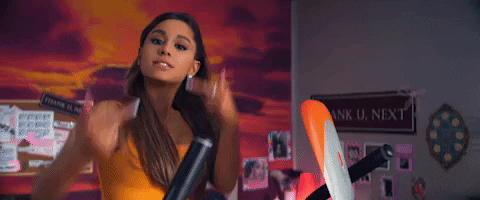 h/t: BuzzFeed