If you're a fan of the Hulu hit series The Handmaid's Tale, you know that you were left with tons of questions at the end of Season 2. First of all, why did June all of a sudden change her mind when escaping? Also, is she going to be able to get Hannah back? What's going on with her hubby? What's going on with the Waterfords? Are they coming back? And, are they going to stay together? Let's be real—can you forgive your hubby for cutting off your finger? Not me.
While we don't have answers to any of these pressing questions, we did get a pretty solid teaser during the Super Bowl this month. The teaser showcased some major changes that would be taking place in June's life. Let's not forget the small clip of June walking around in a Martha's uniform—what gives?!?
And, Hulu producers seem to be having a wonderful time playing with our emotions. We're unsure if it was an undercover disguise, or if June escaped and has a new identity as a Martha. And, when the f*ck will we find out?
Apparently, in June—how IRONIC! Hulu dropped a little clip on Instagram this week letting fans know that the show will return on June 5th, 2019. Not only did they drop the date, but they gave us a fiery surprise. Does this mean that Gilead is going to be burnt to the ground? Will June start a massive arsonic revolution amongst the Handmaids? I need answers, people.
The only downside to this—and a huge catch—is that Hulu is only releasing the first three episodes on June 5th. After that, a new episode will come out every Wednesday to stream. In all honesty, that's bullsh*t. I cut my chord with cable so that when I wanted to watch a series—I could watch the entire thing in one shot. Come on Hulu, why are you trying to invade my binge-watching habits? Not cool, y'all.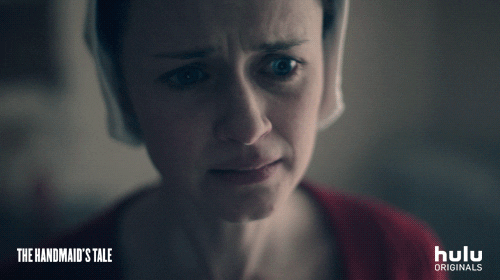 Additionally, there will only be 13 episodes of the season. However, producers say that they've worked hard to make sure fans are satisfied with the events that transpire in Gilead. Hulu executive Craig Erwich said at the Television Critics Association press tour this week that the first two episodes of the upcoming season are "spectacular."
Well, Praised Be!