Happy Friday, and welcome to our "People We Regret To Inform You Were Cancelled This Week" series. It's exactly what it sounds like, though there is a disclaimer: These wrongdoers by no means exist on the same spectrum of moral corruption.
Some are worse than others. Some are individuals and some are groups of people. Some committed crimes so heinous they deserve to be shipped off to another planet whereas others just… kinda blew it. Some are cancelled for a day, and others for eternity. This is subjective. Don't get into semantics with me.
1. Jussie Smollett
It's been less than one month since Jussie Smollett claimed he was attacked in Chicago by two men who yelled racist and homophobic slurs at him, and the situation has spiraled.
The Empire star turned himself in Thursday morning following charges of disorderly conduct for filing a false police report. Prosecutors claim Smollett orchestrated the hate crime because he was dissatisfied with his Empire salary.
Chicago Police Superintendent Eddie Johnson nailed the crux of the problem in a press conference Thursday morning: "I just wish that the families of gun violence in this city got this much attention," he said, "because that's who really deserves the amount of attention that we're giving to this particular incident."
Cardi B did one better in an Instagram Live video Monday when she said Smollett "f–ked up Black History Month" by giving already incredulous conservatives ammunition against POC and the LGBTQ community. (Turns out, she was right.)
"You give f**king Donald Trump immunity to f**king laugh at people and shit and make motherf**kers look bad."
We reserve judgement on Smollett—who staunchly denies the hoax allegations—and instead reiterate this statement from Empire producers, who are standing by Smollett yet nonetheless suspending him from the show: "While these allegations are very disturbing, we are placing our trust in the legal system as the process plays out."
2. John Wayne
Twitter decided on Monday that iconic film star John Wayne—who was a staunch conservative all his life, and who died in 1979—is officially "cancelled."
Screenwriter Matt Williams sent snippets of an old interview Wayne did with Playboy viral on Monday, raising questions of liberal hypocrisy, relevance, and whether or not its fair to dissect the beliefs of an actor who has been dead for nearly four decades when there are still so many prominent homophobes and racists alive and well today.
In the 1971 interview, Wayne in no uncertain terms expresses racist and homophobic sentiments, decries socialism, and voices support for the Vietnam war.
Jesus fuck, John Wayne was a straight up piece of shit

(Playboy interview, May 1971) pic.twitter.com/okfG1iZb0U

— Matt Williams (@pixelpreaching) February 18, 2019
If today an actor said "I believe in white supremacy," voiced his lack of empathy for slaves and displaced Native Americans, and described film characters by using a homophobic slur, then he'd be…yes, "cancelled," in the sense that everyone would hate him and he'd never work in Hollywood again.
But this interview was given nearly half a century ago. Is it fair to retroactively cancel John Wayne? Does it even matter? Does anything matter? These are questions I'm not qualified to answer. He was definitely a dickhead, though.
This John Wayne thing is funny. We go one day without having someone to cancel and twitter is like "let's go to the archives."

— Robby Slowik (@RobbySlowik) February 19, 2019
3. Burberry
Fashion brand Burberry was forced to apologize this week after they sent a model down the runway at London Fashion Week wearing a hoodie that featured a noose dangling around the neck.
The retailer removed the item from its collection after one of its own models, Liz Kennedy, penned a viral Instagram post criticizing the fashion house for the "extremely triggering" garment. However, Kennedy says she voiced her concerns multiple times during a fitting but was told, "'It's fashion. Nobody cares about what's going on in your personal life so just keep it to yourself.'"
It's difficult not to view Burberry's noose-hoodie as an intentional piece of outrage marketing, meant to stir up conversation by creating a viral moment that is just racist and offensive enough to cause outrage, but not repugnant enough to be utterly indefensible (although personally, I'd argue that it is.)
Real talk: @Burberry is a tired, uninventive brand you should have dropped a LONG time ago. This ain't 2003. And they think lynching tools are cute accessories.

You literally have every reason to put them out of business. https://t.co/Z8kpyv1Kwn

— Ja'han Jones (@_Jahan) February 19, 2019
We obviously can't "cancel" a brand but we can sure do our best to let people know how bad it sucks!
4. Jordyn Woods
I've seen people saying Tristan Thompson should be the one facing the brunt of the outrage in the Khloé Kardashian-Jordyn Woods cheating scandal, but here's the thing: Thompson was already cancelled. He was cancelled when he cheated on Khloé the first time around and she found out about it just days before giving birth to his daughter.
In Cleveland of all places, which she understandably hated. Nothing against Cleveland (go Cavs!), but it's no LA and kindly do not @ me.
We already knew that Thompson was a scumbag—and his nonchalance regarding this situation cements it. According to Us Weekly, "Tristan isn't too worried about not seeing True" because "he honestly doesn't really care" and "was never trying to win Khloé back" because he sucks!!!
(I wish he was bad at basketball so I could say something like, "he also sucks real bad at basketball so what's the point of him, anyway?" but he's actually really good, so. I can't say that. Wish I could though.)
My point is: We expected this from Thompson. We did not expect this from Jordyn Woods, whose entire life was made possible by Kylie Jenner. Who should've known better. Who broke the most sacred Girl Code of all.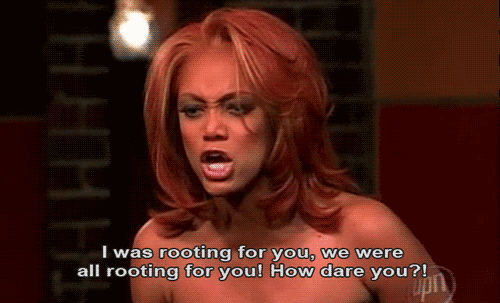 Jordy is cancelled forever. Here's hoping she doesn't rise from the ashes as the new reality TV star we deserve but don't want.
5. Robert Kraft
News broke Friday morning that Patriots owner Robert Kraft had been charged with soliciting prostitution as part of a Florida investigation into sex trafficking.
According to Jupiter, Florida police chief via BuzzFeed News, Kraft was charged with two counts of soliciting another to commit prostitution. There is video evidence of Kraft "receiving the alleged acts" over the course of two visits to a spa about a moth ago.
This is a good joke:
Wow, that makes seven rings! https://t.co/UOUui55IYe

— Matt Goldich (@MattGoldich) February 22, 2019
Is Bob Kraft cancelled? I don't know. I feel kind of bad for him. Some people only get laid because they pay for it.
????THIS????IS????WHY????PROSTITUTION????NEEDS????TO????BE????LEGALIZED????