Khloé Kardashian is no stranger to posting cryptic messages on her Instagram—on January 18, for example, she posted some quotes about jealousy and insecurity in her stories, giving absolutely no context, as is her way.
On Sunday, Kardashian posted a quote about soulmates on Instagram stories that can only add fuel to the fire of the rumors that she and baby daddy Tristan Thompson are broken up. Or breaking up.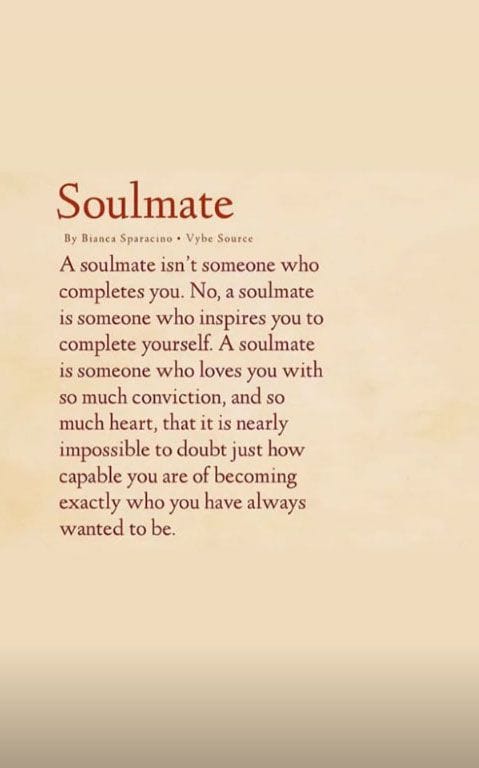 The quote, which is attributed to Bianca Sparacino, reads:
"A soulmate isn't someone who completes you. No, a soulmate is someone who inspires you to complete yourself. A soulmate is someone who loves you with so much conviction, and so much heart, that it is nearly impossible to doubt just how capable you are of becoming exactly who you have always wanted to be."
Is Thompson the person Khloé's referring to? And if so, is that a good or bad sign for their relationship? Or does this have nothing to do with them at all? Impossible to tell. Why so kryptic, Khloé??
The couple hasn't been seen together since January 13, according to Cosmo. But let's take a look at the quotes she posted on January 18.
One reads, "Everything will happen for you all of a sudden and you'll be thankful you didn't give up. Blessings are coming. Believe that."
Okay, that's a pretty nice, general quote about hope and thankfulness. But the other one deals with relationships, and it's definitely more complex.
It reads:
"Relationships are harder now now [sic] because conversations became texting, arguments became phone calls, feelings became subliminal messages, sex became easy, the word "love" is used out of context, insecurities became a way of thinking, getting jealous became a habit. Trust is hard to come by, being hurt became natural & leaving became the only option. Sad but true, so if you have something that's worth it…don't take it for granted, fight for it & don't let it go."
Hmm, very interesting, but what does it all mean?
h/t Cosmo