The 91st Academy Awards may not have had a host lined up this year, but the ceremony did start with a bang. The original members of Queen and Adam Lambert kicked off the night with a live performance followed by opening remarks from our favorite trio of comedic ladies, Amy Poehler, Tina Fey, and Maya Rudolph. Needless to say, Twitter had their opinions about the unexpected beginning.
This year's Oscars ceremony may have been hostless, but "presenters" Tina Fey, Amy Poehler, and Maya Rudolph kicked off the evening with some hilarious commentary.
The Saturday Night Live alums poked fun at a number of Oscars gaffes including the lack of host.
"We are not your hosts, but we're going to stand here a little too long so that the people who get USA Today tomorrow will think that we hosted," said Fey.
Maya Rudolph also remarked on the academy's removal of the popular movie category before taking a perfectly timed jab at Trump.
"So just a quick update for everybody in case you're confused. There is no host tonight, there won't be a popular movie category," said Rudolph before adding, "And Mexico is not paying for the wall."
Needless to say, Twitter had some thoughts about the introduction.
Even TWO years ago, if I had told you an Oscars broadcast would begin with a live performance by Queen with a shot of A-Rod dancing in the second row, you'd have wondered on what planet this occurred.

— Rich Eisen (@richeisen) February 25, 2019
This hostless Oscars is like the part of The Office where Michael Scott left and they hadn't hired a new boss yet and it turned out everybody worked better without a boss at all.

— James Poniewozik (@poniewozik) February 25, 2019
WOMEN MAKE EVERYTHING BETTER. #OSCARS

— Alicia Lutes (@alicialutes) February 25, 2019
'Welcome to the one millionth Academy Awards!' – Tina Fey, channeling how we've all felt this entire awards season #Oscars

— Jessica Derschowitz (@jessicasara) February 25, 2019
"For those confused tonight: there is no host… and Mexico is not paying for the wall."- Maya Rudolph. I am ok with these non-host hosts! #Oscars

— shinan govani (@shinangovani) February 25, 2019
nothing but respect for MY presidents #oscars pic.twitter.com/UnrK2HdFLS

— shauna (@goldengateblond) February 25, 2019
ANNE ? pic.twitter.com/66wd8hCLy3

— Sophia Benoit (@1followernodad) February 24, 2019
And many fans wondered why the trio hadn't been named the official hosts.
Can Maya Rudolph, Tina Fey and Amy Poehler just keep not hosting the Oscars? ? #Oscars2019

— Olivia Munn (@oliviamunn) February 25, 2019
But…why can't Amy, Tina, and Maya just host the rest? Why would you start that way and take them away? ? #oscars

— Ashley Clements (@TheAshleyClem) February 25, 2019
Seriously, Maya Rudolph, Tina Fey, and Amy Poehler should have been hired as the hosts of the Oscars. That opening was truly funny. They were brilliant #Oscars2019 #MayaRudolph #TinaFey #AmyPoehler

— Hyo-Jung (@hyojung_12) February 25, 2019
That moment when you realize that Tina Fey, Maya Rudolph and Amy Poehler aren't coming back. #Oscars pic.twitter.com/xZgUNazA9C

— Brittany Jones-Cooper (@BJonesCooper) February 25, 2019
We can only hope they decided to host next year!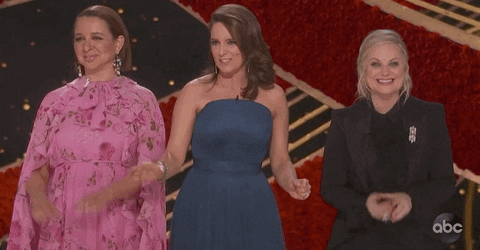 h/t Cosmopolitan