Unless you're Lieutenant Frank Drebin, Police Squad or Whitney Houston, you want to keep your rendition of the national anthem pretty straightforward. The former lead vocalist of The Black Eyed Peas decided to try her own sexy "Fergie-fried" anthem before the 2018 NBA All-Star Game Sunday at Staples Center and Twitter is having an absolute field day with Fergie's all-star game national anthem. Sure, there have been many horrific renditions of the national anthems over the years (see Carl Lewis), but the camera catching Jimmy Kimmel, Chance the Rapper, and NBA All-Star Draymond Green struggling not to laugh during Fergie's performance made it even more priceless. Even TNT analyst Charles Barkley couldn't hold back once Fergie finally finished saying, "I needed a cigarette after that." Brace yourselves, internet… you're about to see evil, and you're most definitely about to hear it.
Our thoughts and prayers go out to Fergie during this time of great internet shame and we sincerely hope she doesn't let this musical disaster get her down. Just because she can't hit those high notes anymore doesn't mean Fergie has nothing left to offer to the pop culture landscape. If she plays her cards right, we firmly believe she'll have no problem landing a gig replacing the voice of the Aflac Duck or Mr. Mucus from Mucinex by the end of the week. Worst case scenario she could replace the band from FreeCreditReport.com
Let The Twitter Roasting Of Fergie's All-Star Game National Anthem Begin!
What About Bob?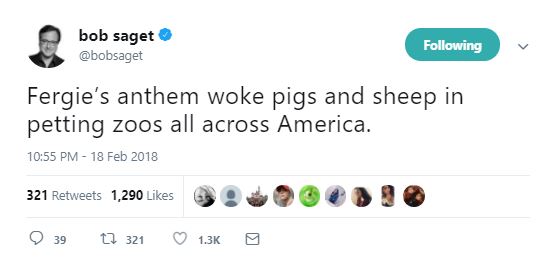 via BS
Setting The Barr Pretty Low
Fergie's failed attempt at a sexy rendition of the anthem was so bad, in fact, that it caused the literal mother of national anthem fails, Roseanne Barr to respond via Twitter.

via RB
Agent J To The Resue!
via GP
The Day Fergie Became Carol From Accounting

via CF
Finding Fergie

via MF
That Kneeling Feeling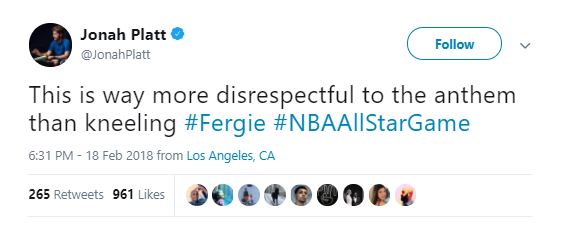 via JP