Author and CEO Dan Price (perfect name) had a simple idea for paying his employees more: He cut his own pay by $1 million. He didn't want his own employees to make less than $70,000 a year. He wanted them to have a living wage. Dan put his staff first. Luckily, Fox News was there with some in-depth reporting. Just kidding. They called him a socialist 100 times.
If you really want to build a business where people feel they're being treated fairly, treating them fairly is probably a good place to start. There's no reason a CEO needs to make exponentially more than everyone else. Don't get me wrong. CEOs are allowed to make more money than someone in the mailroom, but how much more? Also, why? Dan Price put his money where his mouth is, and paid the people who work at Gravity Payments a decent wage.
Follow our hero Dan: Twitter | Instagram
Mr. Price shared how the past 6 years have gone in a viral Twitter thread:
---
1. Here's a retrospective video of FOX News clips calling Dan a socialist over and over for his good decision:
6 years ago today I raised my company's min wage to $70k. Fox News called me a socialist whose employees would be on bread lines.

Since then our revenue tripled, we're a Harvard Business School case study & our employees had a 10x boom in homes bought.

Always invest in people. pic.twitter.com/o7Ca7I4b7e

— Dan Price (@DanPriceSeattle) April 13, 2021
2. Some highlights from Fox include…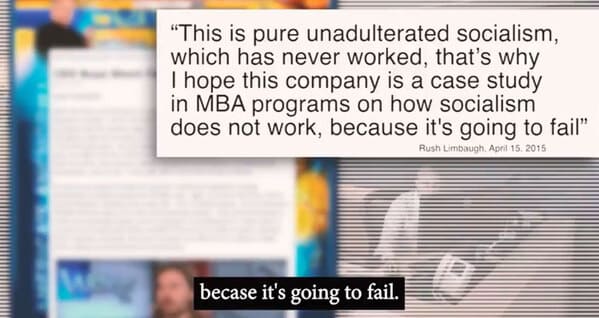 3. They continued.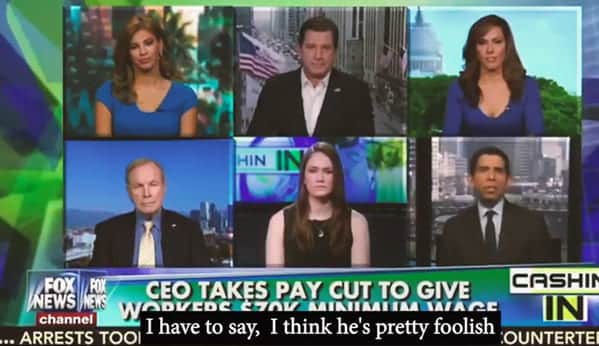 4. Seems like they all had the same take.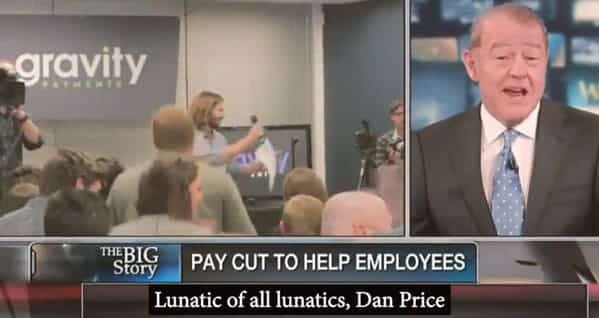 5. The tough question was asked over and over.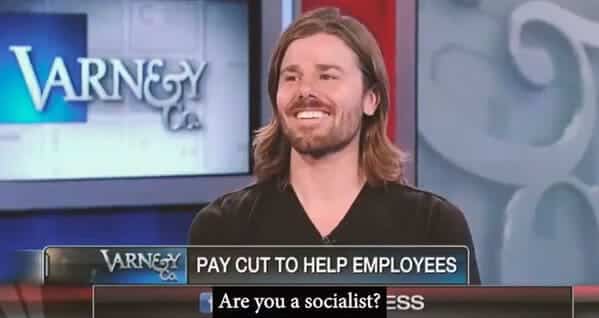 6. Personally, I'd like to know what you think now.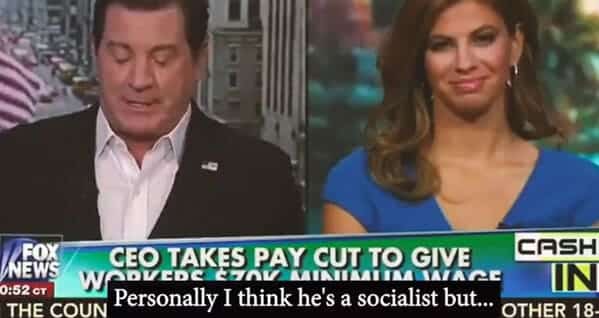 7. Dan put his employees first, and 6 years after his choice to reduce his salary, he had some news to share.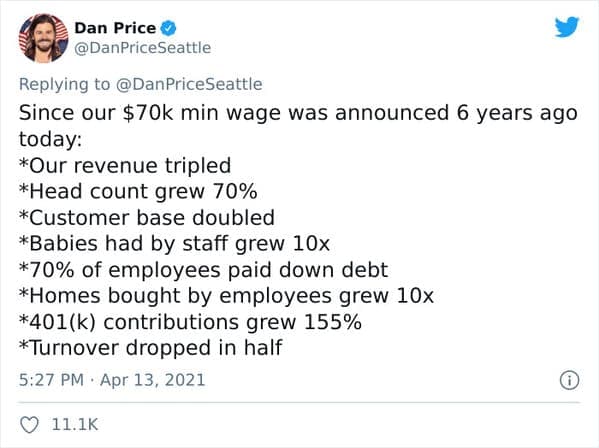 8. The business itself did better as a result. Here are the numbers.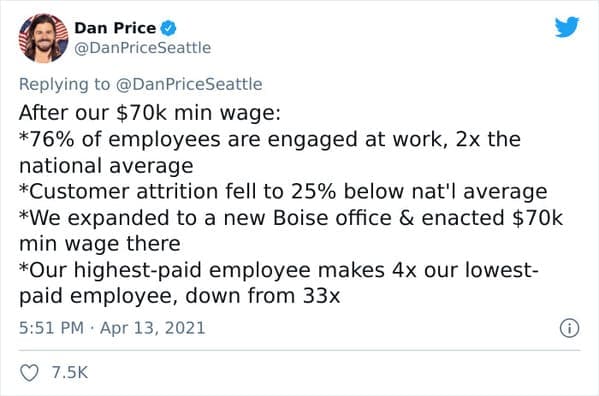 9. They were able to hire more people.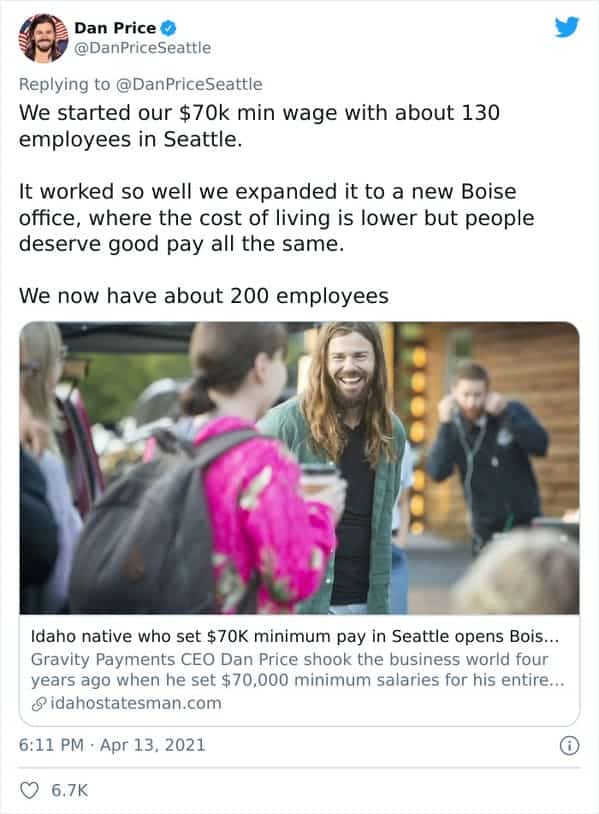 10. COVID couldn't stop them.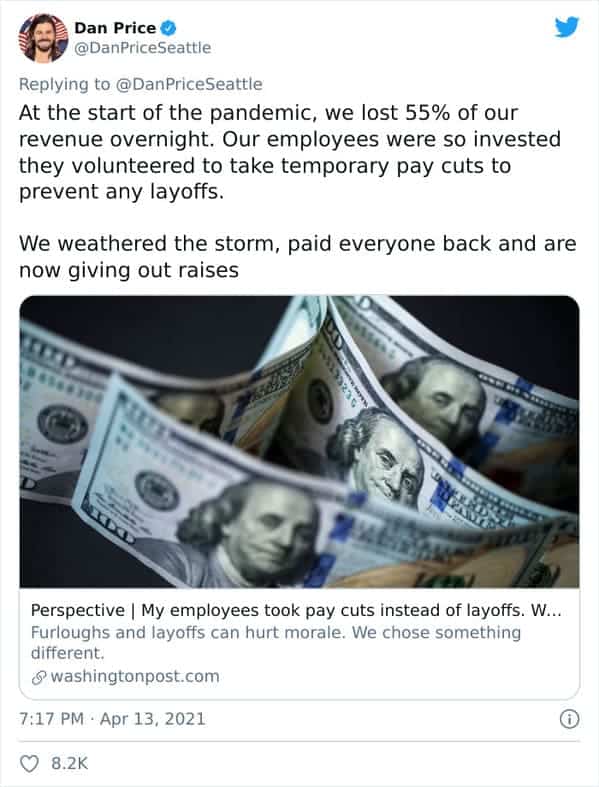 11. One job and one job only should be the standard.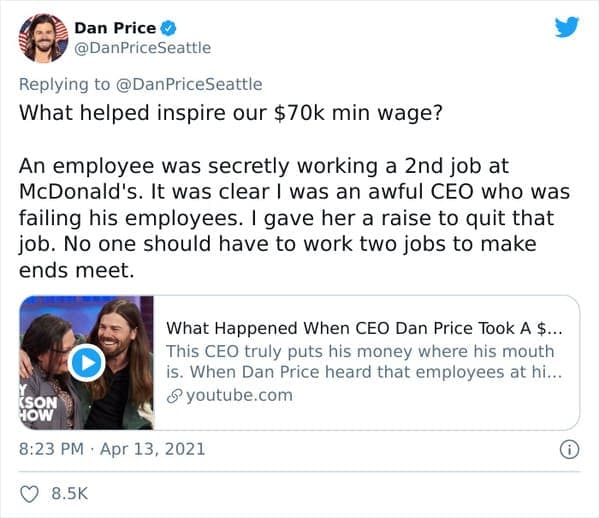 12. How much do the critics themselves make?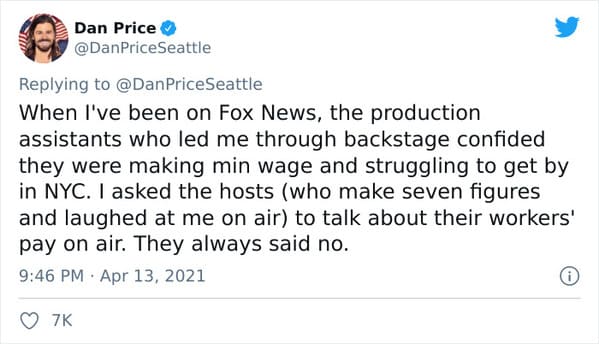 13. Not a fluke.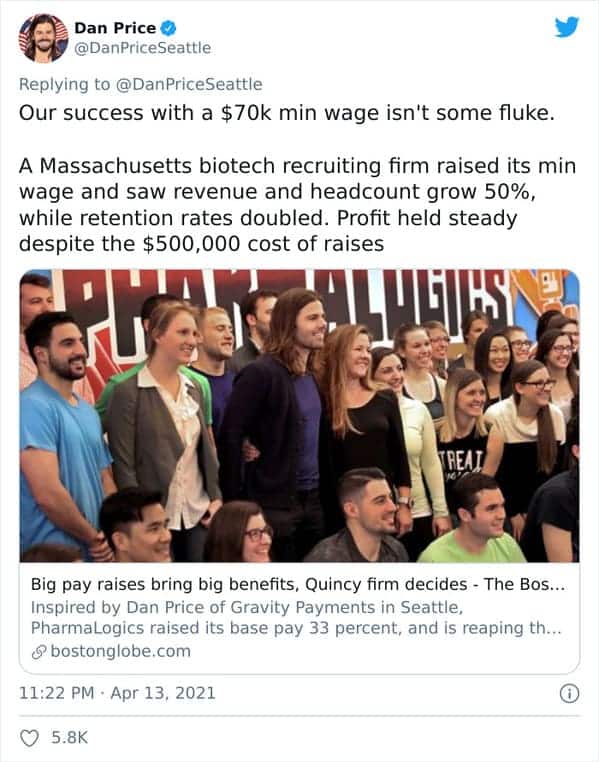 14. He also only makes $70k.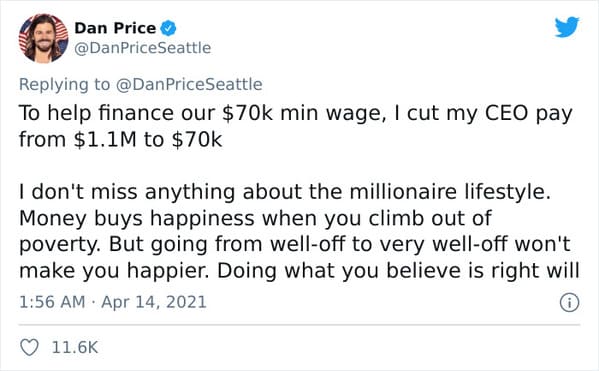 15. $0 on advertising.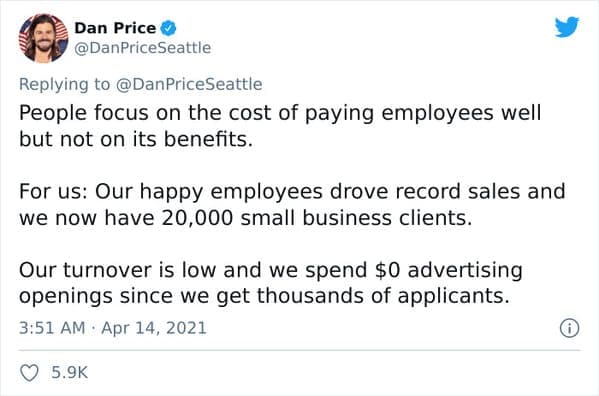 16. Next step: raises.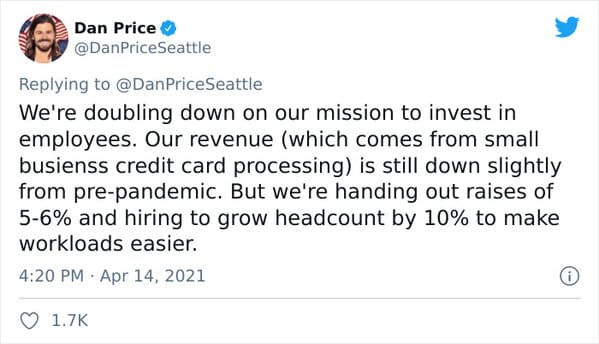 17. When asked if his life had to change much, Dan said this: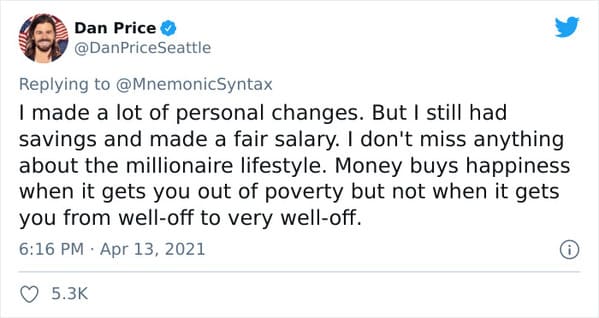 18. Private businesses can run how they see fit.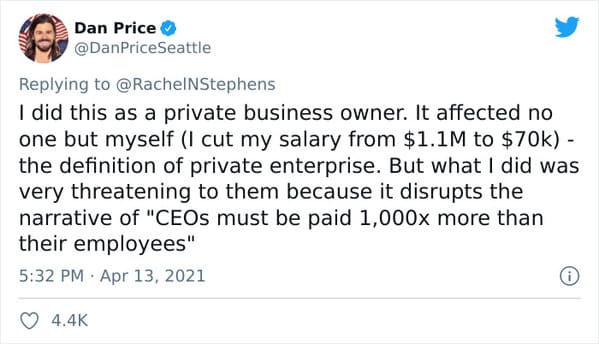 19. Other companies have tried and succeeded.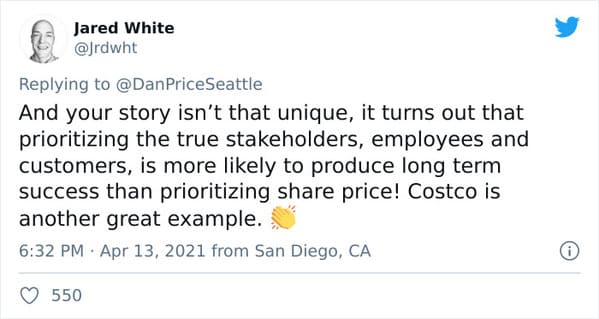 20. Dan knows he's not alone.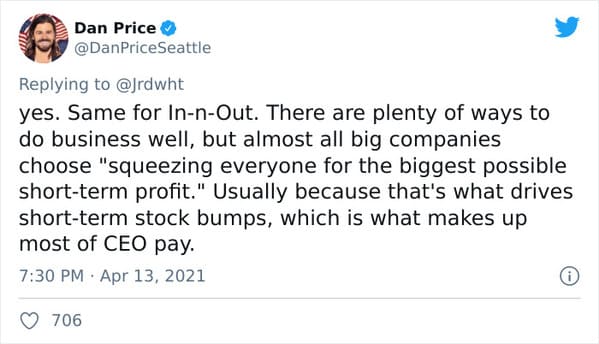 21. People chimed it to share they disagree with Fox.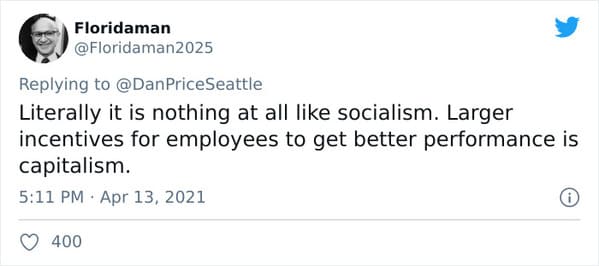 22. Others have tried on a smaller scale.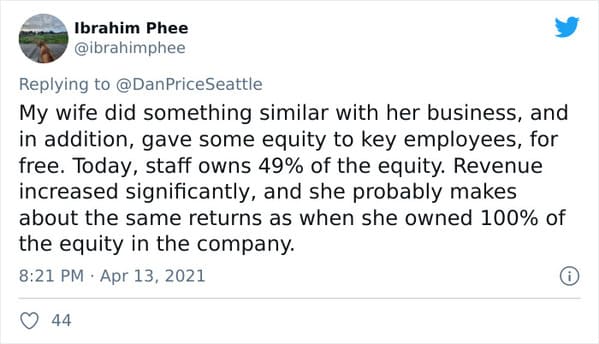 23. Why would rich people want you to fail?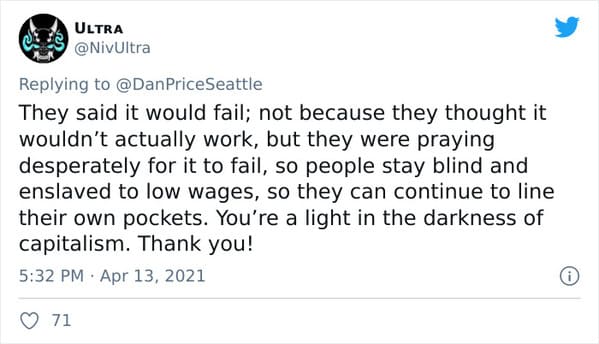 24. Dan, get booked on Fox again!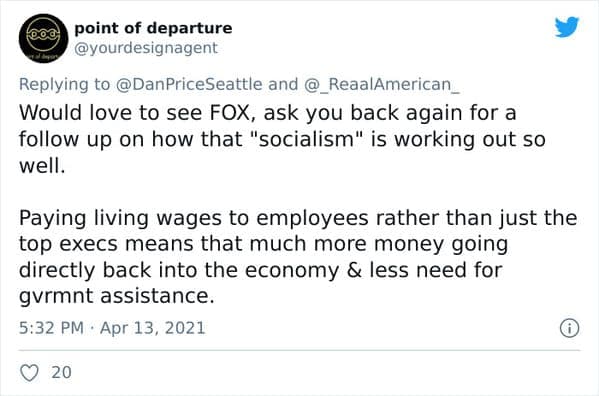 25. It paid off.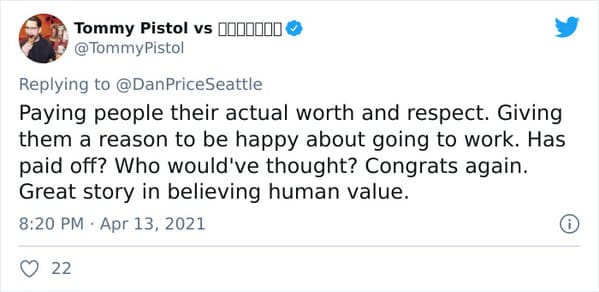 26. Others are still struggling to meet the dream that Price made a reality for his employees.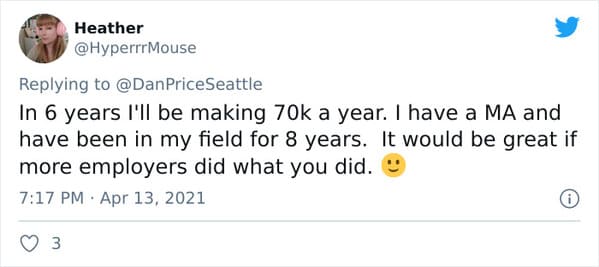 More like Dan PRINCE, am I right?