If you're like me, you love Halloween, but the 31st will inevitably sneak up on you once again. You'll get that Facebook invite to a fun party, click yes, and not give it another thought until a few days before when someone asks you: "So, what are you dressing up as this year?"
Not to worry. Here I've provided you with several options for costumes you can put together with items laying around your house, or even with one quick trip to Goodwill. No one will have any idea you haphazardly slapped it together the day of. In fact, they'll even remark on how clever you are for coming up with such a simple but brilliant costume. Go ahead and take all the credit. You're welcome.
15. Batman
What you'll need:
a cheap black umbrella
a black hoodie or long sleeve
tape
Have an old broken umbrella laying around? Of course you do! Umbrellas are about as durable as single-ply toilet paper. Cut that bad boy into two pieces and tape it to a hoodie. Now you're ready to take to the night sky.
14. Wednesday Addams
What you'll need:
white collared shirt
a black dress or sweater/skirt combo
brunette hair or black wig put into braids
The goth look is timeless, and possibly one of the most recognizable goths of all time is Wednesday Addams. This look is easy enough to pull off but the attitude is what makes it.
13. Lumberjack/Brawny Man
What you'll need:
a beard or at least a few days of stubble
beanie
red flannel
an ax (preferably plastic) or a roll of Brawny paper towels
Depending on wether or not you can grow a beard, this costume is easy and cheap to put together. Even if you're on the more follicly challenged side of the spectrum, you can get one of these fun beard substitutes on Amazon.
12. Ladybug
What you'll need:
as many red articles of clothing you can get
black fabric or paper to cut into circles
tape or glue
Maybe one of the easiest last-minute costumes to pull off. Bonus points if you can get your hands on some antennae and a mask. Also, anyone who's seen A Bug's Life knows this costume can work for both women and men.
11. Bouncer
What you'll need:
Black shirt
clipboard
a rope
be a dick
Send some time hanging out by the door at the party. You'd be surprised how many people will hand you their I.D. without even thinking about it.
10. A Ceiling Fan
What you'll need:
a jacket or shirt
a hat
tape
a Sharpie
This can be as creative as you want. All you really need is a white shirt that says "GO CEILING" on it to make the joke work, but you might want to go the extra mile if you don't want to spend the whole night explaining your costume.
9. Nudist On Strike
What you'll need:
A sign that says "NUDIST ON STRIKE"
Look, I'm not saying it's the greatest costume ever, but it'll get a chuckle out of a few people and you can literally put this together on the way to the party. You don't owe them anything.
8. Fantasy Football
Halloween '13 Megathread 1: What are your best costume ideas? from AskReddit
What you'll need:
a robe or Snuggie
a beard, wizard cap, or football helmet
a staff
a football
There are plenty of variations on this costume that'll work. Really, any type of fantasy character holding a football will get the job done.
7. Super Mario and/or Luigi
What you'll need:
Overalls (or blue jeans with suspenders)
a red or green shirt and hat
fake mustache
A great couples costume as well. If you don't want to cough up the money for some overalls you'll never were again, some $5 suspenders will work in a pinch. I did this last year and got my entire costume at Goodwill for $20.
6. Rosie the Riveter
What you'll need:
blue jeans
blue collared shirt
red bandana
iconic pose
You've probably seen this one every year, but don't let that stop you. The future is female and Rosie has never been more in style. Just don't wander into and Crypt neighborhoods.
5. The Bachelor/Bachelorette
What you'll need:
Nice suit or dress
several roses
An easily executed costume that allows you to look nice and if you're single, can be an awesome icebreaker when talking to anyone you're into. Distribute those roses then sit back and wait for love.
4. Bob Ross
What you'll need:
brown afro wig
a beard (face paint will work)
a collared button-up shirt (blue or white)
a painters pallet (cardboard cutout will work)
a paintbrush
a calm and soothing demeanor
Another easy costume that can also be a couples package. Either a happy little tree or a landscape painting. Netflix just added a ton of episodes if you're looking for inspiration.
3. Cereal Killer
What you'll need:
assorted sizes and brands of cereal
fake blood or red paint
a white shirt
some plastic knives
Tis one is a little on the darker side, but I feel like the cleverness trumps the gore. Plus you get to eat a ton of cereal to prep the costume.
2. One Night Stand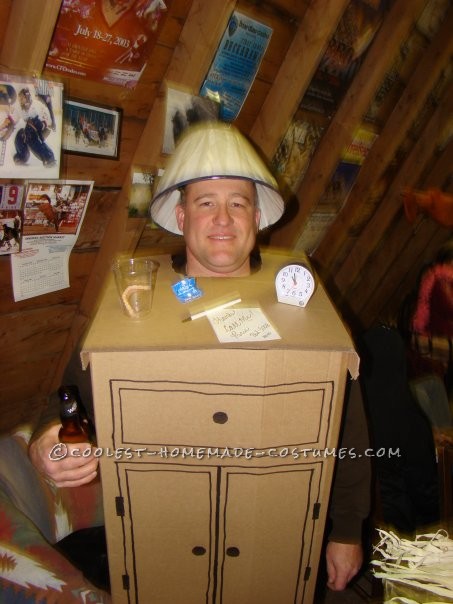 What you'll need:
a medium or large cardboard box
assorted nightstand accessories (alarm clock, picture frame, cup…)
lampshade for a hat
This one is great, but I'd recommend actually writing "one night stand" somewhere on the costume. Again, you don't want to spend the entire party explaining what you are.
1. French Kiss
https://www.flickr.com/photos/[email protected]/10391066584
What you'll need:
face paint
striped shirts
baguettes
berets
scarves or handkerchiefs
wine glass
friends
Magnifique! French Kiss will crush at any Halloween party. Unless you get separated from your group and end up looking like a crappy mime.