Are you a Trader Joe's fan? You should be, if you happen to live by one. I personally do not want to imagine an existence without their brownie bites and their world's puffiest corn puffs.
If you do shop there, check out some of these cool hacks kindly provided by generous Twitter users. You might find yourself buying something you haven't before or combining things you might not have otherwise.
And if you don't shop there, now's as good a time to start as any! Try something new!
1. Like this bagel idea.
PRO TIP: put Trader Joe's Everything Bagel seasoning on your avocado toast. It's LIFE CHANGING

— Aus Hol (@aus_hol) May 17, 2018
2. Or this sweet combo.
God bless trader joes and this combination pic.twitter.com/VqA3hcY2F9

— marissa (@marissa922) April 8, 2014
3. Here's another tasty combo to try.
Omg sweet potato chips and caramelized onion dip from Trader Joes is the best combo I've ever had

— Michelle Lee Adams ✨ (@michelleleeleee) June 26, 2015
4. The cherries are good but have you tried freezing them because yes.
Tip: get some Trader Joe's® Dark Chocolate Cherries, and put 'em in the freezer. Thank me later.

— Matt Sherman (@clipperhouse) June 22, 2011
5. Cheese and crackers are perfect together, of course.
My FIT friends got me addicted to putting cream cheese on trader joes raisin rosemary crisps. Best combo in the world honestly

— Lexi Coleman (@Little_lexi_lou) August 9, 2018
6. But how about something a little fancier?
Trader Joe's miso ginger broth + mini chicken cilantro wontons. I don't know how I've been living without this combo up to now. #yum

— Amy Tintera (@amytintera) February 16, 2017
7. Speaking of fancy, everyone likes drinking candy.
pro tip: rosé mixed with trader joes almond champagne tastes like gummi bears

— genevieve (@genevieveew) September 18, 2016
8. Ever had Trader Joe's cookie butter?
Finally tried a combo I thought would be tasty, and it exceeded my expectations. Girl Scout Trefoils smeared with Trader Joes cookie butter.

— Andrea Hoggard (@Andrea_PharmD) January 3, 2016
9. You can and should eat it with just about everything.
trader joes SNACK HACK honey sesame almonds dipped in cookie butter u are so very welcome

— GabSaige (@gab_saige) April 4, 2016
10. It's even vegan.
vegan hack: trader joe's cookie butter on graham crackers.

— ju??‍♀️ (@fruityjuuj) March 4, 2017
11. As is this meal.
Vegan hack: replace tofu with rice cauliflower (sold in Trader Joe's) in your breakfast scrambles. pic.twitter.com/DSjy8RFp6u

— Mx. ¯_(ツ)_/¯ (@decorcione) June 20, 2016
12. This isn't vegan but sounds delicious.
if anyone really likes prosciutto but doesn't like spending money on it consider this hack:

purchase a burratta prosciutto frozen flat bread from trader joes. it's like 4 bucks! they package the prosciutto separately AND you get a pizza!

— rebecca (@bixmiix) October 25, 2018
13. Here's something else you can do with that prosciutto.
Trader Joes tip du jour: precut mango spears. wrap in prosciutto. raw or grilled. breakfast, lunch dinner. a school lunch box staple.

— Jana Fay (@theknow) March 22, 2009
14. How about this super easy potato salad?
Trader Joe's food hack: Frozen roasted potatoes w/ roasted peppers & onions + bacon cheddar ranch dip + bacon = bomb potato salad

— Joe Ovies (@joeovies) July 4, 2013
15. And here's the "ultimate trifecta."
This is the Trader Joes ultimate trifecta. Pretzel crisps that you dip in a cream cheese/rasberry chipotle sauce combination pic.twitter.com/bvR8EvRptL

— David Fisher (@DJFishhh) December 5, 2016
Hungry yet?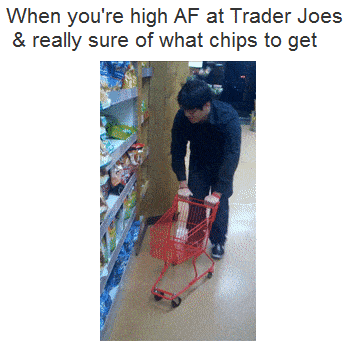 h/t: BuzzFeed