Game on! Comedian Pete Davidson and actor Kate Beckinsale have been spotted a few times hanging out, getting cozy, and holding hands, but this weekend at a Rangers game they were full-on playing tonsil hockey in their seats.
You're doing great Pete!!!!! pic.twitter.com/8UMX5AbT3J

— Chicks in the Office (@ChicksInTheOff) March 4, 2019
The moment, already so meme-able, gets even better when you zoom out a bit to see that Queer Eye chef Antoni Porowski was sitting right next to them. It's just so absolutely, totally, wonderfully, perfectly awkward.
Here are 16 of the funniest reactions in the form of tweets and memes to the now-famous makeout sesh with close-up audience of one.
1.
Expectation: Pete Davidson and Kate Beckinsale.
Reality: Antoni. pic.twitter.com/AbG8PxDH6f

— Taylor Banks (@MsTaylorBanks) March 4, 2019
2.
Antoni being highly uncomfortable by Pete Davidson and Kate Beckinsale is a legitimate mood pic.twitter.com/J55Xb8Jkcl

— kristin (@KHeydt13) March 4, 2019
3.
Pete Davidson is me.
Kate Beckinsale is a jawn.
Antoni is my bank account. pic.twitter.com/bzRAaLZBud

— ben james (@BenjaminJames27) March 4, 2019
4.
Antoni is us watching our friends crawl back to the same losers pic.twitter.com/1s4XIkZXZc

— Andrew Strauss (@straussanator) March 4, 2019
5.
antoni 100% thinking' bout avocados pic.twitter.com/k5uKA1lrY2

— lily ellora newton (@lilyellora) March 4, 2019
6.
When you want to make the perfect grapefruit and avocado salad but the avocado isn't ripe enough pic.twitter.com/jctyICdm7P

— Is Antoni Safe (@is_Antoni_Safe) March 4, 2019
7.
Antoni's wondering what type of homemade salsa could save a Boston bartender's marriage pic.twitter.com/eYR3X2uqGy

— Nooruddean (@BeardedGenius) March 4, 2019
But not everything was about Antoni, of course. There were a lot of jokes about the PDA portion of the event.
8.
Pete Davidson and Kate Beckinsale seem like huge NHL fans based on this pic from last night's Rangers game. pic.twitter.com/mnRXO8qTh2

— Jimmy Traina (@JimmyTraina) March 4, 2019
9.
Embarrassing things Kate Beckinstale has been in:
– Pearl Harbor
– Underworld
– Pete Davidson's mouth

— Chase Mitchell (@ChaseMit) March 4, 2019
10.
facebook just showed me this nice memory of me at high school parties pic.twitter.com/woNoR9ynfi

— David Mack (@davidmackau) March 4, 2019
11.
Thanks to Kate Beckinsale and Pete Davidson for summing up wedding season for me in one image. #couplegoals pic.twitter.com/alU0uZMHOZ

— Heather Colvin (@shesjustkidding) March 4, 2019
Also, a lot of people wondered just exactly how this hookup happened.
12.
Pete Davidson is an inspiration to 25 year old slackers everywhere. YOU TOO, can maybe one day make out with Kate Beckinsale at a hockey game before inevitably coming home to you playing video games on the couch while stoned for the 250th time and realizes the error of her ways.

— Teej (@TJCarpenterShow) March 4, 2019
13.
Pete Davidson has been engaged to Ariana Grande and is now dating Kate Beckinsale.

Can you PLEASE tell us your pickup lines? You are obviously a wizard.

— Jesse Daniel Lifson (@DoYouEvenLIf) March 4, 2019
14.
News: Pete Davidson spotted making out with Kate Beckinsale at a hockey game

Me: pic.twitter.com/zB1RqIM8Vq

— c. dawson (@wiltinginharlem) March 4, 2019
Here's one person's theory:
15.
Pete Davidson's dick really is that big, huh?

— Driving White Saviors (@Asymetricalhomo) March 4, 2019
Big D*ck Energy, indeed.
But the best observation of them all was from comedian Aparna Nancherla, who pointed out something important:
16.
Tbh a hockey game is the perfect place to open mouth kiss, there are, on average, less teeth in that room than anywhere else

— Aparna Nancherla (@aparnapkin) March 4, 2019
And, finally, this person has just one simple question.
17.
You're telling me that Pete Davidson (25) is going out with Kate Beckinsale (45), but I (24) can't successfully find myself a Victorian ghost husband (182)???? What's the deal???

— c h r i s s y (@NievesChrissy) March 4, 2019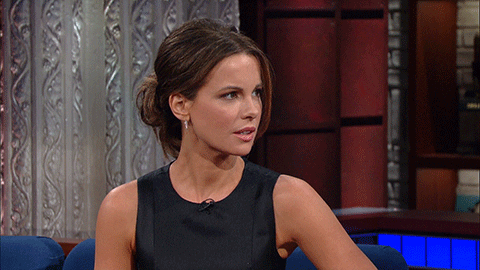 h/t: BuzzFeed