Nicolas Cage married his girlfriend Erika Koike in Las Vegas on Saturday and filed to have the whole thing annulled just four days later. Yup, sounds about right.
The actor, 55, and his make-up artist girlfriend filed for their marriage license and got their marriage certificate on the same day, People reports. I can't not point out that Cage starred in the movie Honeymoon in Vegas (along with Sarah Jessica Parker and James Caan), in which he tries to put off a spontaneous marriage for just a few hours and in that time manages to lose his lady (sort of) to another man. SO clearly Cage was just in a rush to seal the deal.
And then he was also in a rush to unseal the deal when he submitted the application for annulment on Wednesday.
TMZ got photos of Cage and Koike Saturday night, and they seemed to be fighting. People there told TMZ that Koike was yelling at Cage, and this was just hours after they'd gotten married. So the annulment probably wasn't too big a surprise to anyone involved.
TMZ also got ahold of the annulment documents, which reportedly reveal that he and Koike were super drunk when they decided to get married. Surprise!
In the documents, Nic says, "[Erika] suggested to [Nic] that they should marry, [Nic] reacted on impulse and without the ability to recognize or understand the full impact of his actions."
Cage also said the marriage was a "fraud" because Koike didn't share "the full nature and extent of her relationship with another person." She also apparently conveniently left out her criminal history.
He justified the annulment by saying that between them there was "such conflict in personalities and dispositions that are so deep as to render the two incompatible in marriage."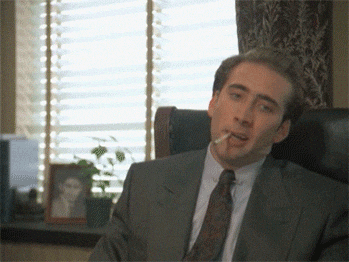 So this was Cage's shortest marriage, beating out the like three months that he was married to actor Lisa Marie Presley in 2002. Well, technically the divorce didn't go through until 2004, but they split after three months.
Cage has been married three times before this soon-to-be non-marriage. He wed his first wife, actor Patricia Arquette (who is now starring in the docuseries about the murder of Claudine "Dee Dee" Blanchard, The Act), in April 1995 and they divorced in 2001.
In August 2002, he married Lisa Marie Presley, and they split in November of the same year.
Alice Kim was Cage's third wife, and the one with whom he has a son 14-year-old son, Kal-El. They got married in 2004 but then separated in January 2016.
Cage talked about the end of his relationship with Kim in an interview with The Guardian in 2018. At the time, he was promoting his movie, Mandy. "It was a shocker for me," he said. "I definitely didn't see it coming and those feelings had to go somewhere, so they went into the performance." (And what a performance it was!)
He continued, "And now it's like, wow, I'm 54 and I'm single again, I didn't see that coming! It's pretty grim."
Well, congratulations to the newlyweds, and too bad about their divorce.