Sophie Guidolin, a bodybuilder and fitness influencer from Australia, recently faced an influx of trolling comments after posting a photo of herself in a bikini beside her 15-year-old son, Kai.
The post, a carousel of photos posted to wish Kai a happy birthday, had originally been captioned simply "Happy 15th Kai 😍👶🏼 #firstborn", but after the trolls filled the comments section calling her pose "too sexy," Guidolin edited the caption clapping back at the nasty comments.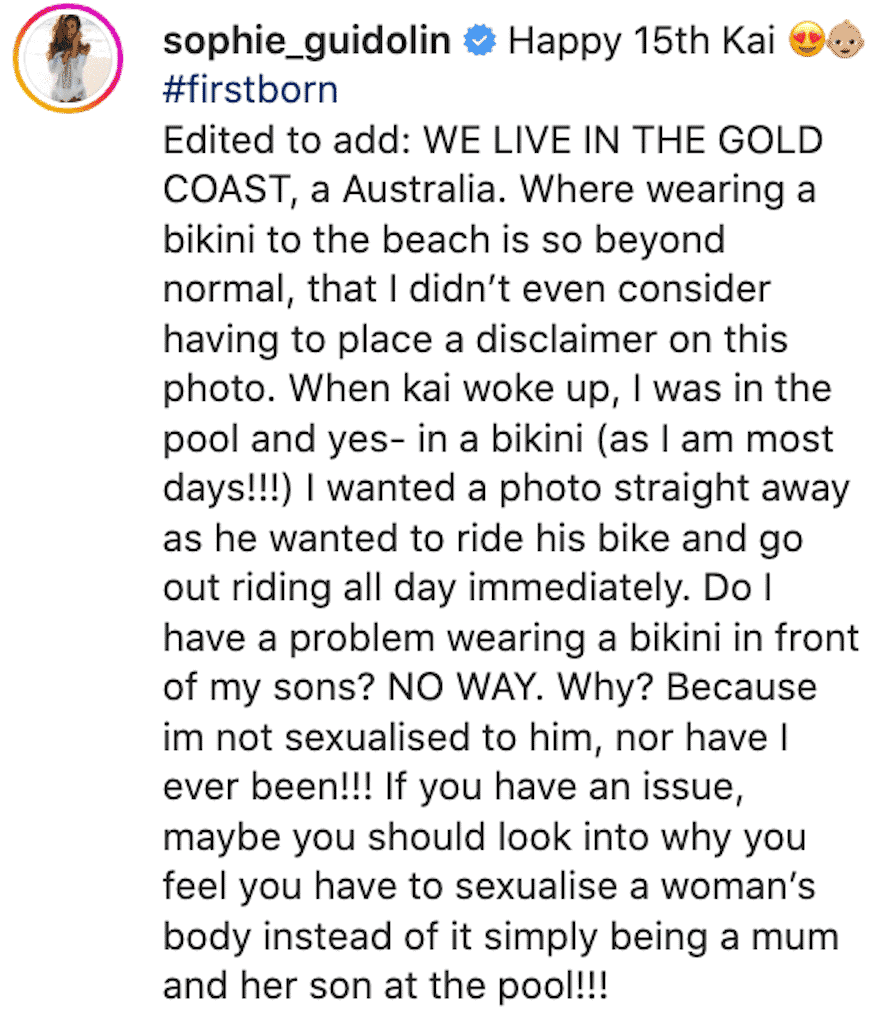 She started the edit by saying that they live in the Gold Coast of Australia, "Where wearing a bikini to the beach is so beyond normal, that I didn't even consider having to place a disclaimer on this photo."
The fitness mom went on to say, "When kai woke up, I was in the pool and yes- in a bikini (as I am most days!!!) I wanted a photo straight away as he wanted to ride his bike and go out riding all day immediately."
"Do I have a problem wearing a bikini in front of my sons? NO WAY. Why? Because im not sexualised to him, nor have I ever been!!!" Guidolin said. "If you have an issue, maybe you should look into why you feel you have to sexualise a woman's body instead of it simply being a mum and her son at the pool!!!"
Later on, the bodybuilder shared an honest video conversation with son Kai to her page, who told viewers that there was "nothing wrong with the picture."
"You're in a bikini 24/7, that's your job," he said to his mother. "We're always at the beach. There's nothing wrong with it."
In the video's caption, Guidolin wrote that she hadn't planned on addressing the trolls further, but felt it was important to "[help] educate and even trigger a different thought process or perspective- even for a minute."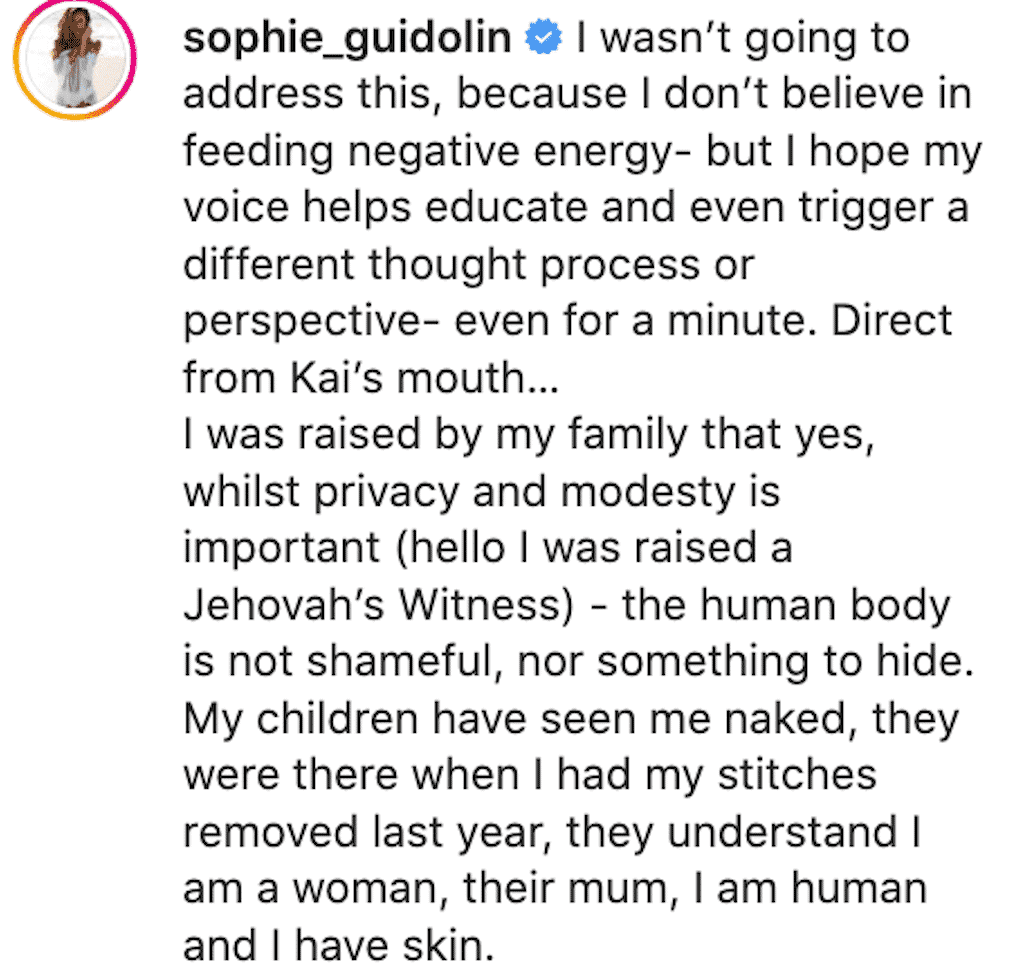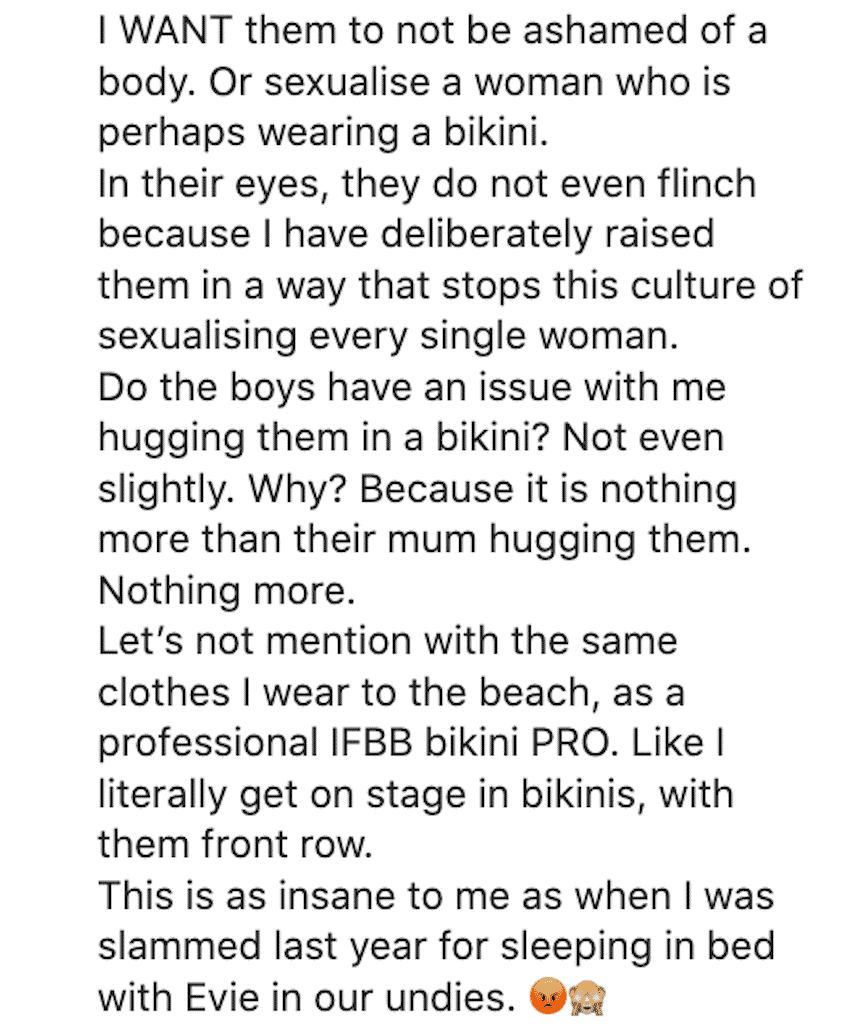 "My children have seen me naked, they were there when I had my stitches removed last year, they understand I am a woman, their mum, I am human and I have skin," the mother of four wrote.
"In their eyes, they do not even flinch because I have deliberately raised them in a way that stops this culture of sexualising every single woman. Do the boys have an issue with me hugging them in a bikini? Not even slightly. Why? Because it is nothing more than their mum hugging them. Nothing more."
In an interview with news.com.au, Guidolin said, "I can hand on my heart say, that in my opinion, there was nothing wrong with the photo, post and context."