Linda Cardellini and Seth MacFarlane appeared on The Late Late Show With James Corden this week. Corden was talking with MacFarlane about how long Family Guy has been on the air when Corden mentioned that Cardellini, who you may remember from the very excellent Freaks and Geeks, or more recently, Bloodlines and Mad Men, would be a good voice on the show.
That gave Cardellini the opportunity to bring up that, interestingly enough, she was on MacFarlane's animated show once. Only, she got fired.
Meanwhile, MacFarlane is sipping from his mug, probably wishing he could melt into the couch.
Here is that very awkward moment: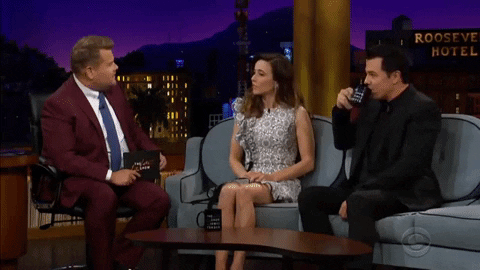 Cardellini explained that she wasn't actually fired. What happened was, when she went to watch the show, after excitedly telling people to tune in, she learned she'd been replaced by another actor. And no one had even told her!
MacFarlane said, "I hope you didn't have people over to your house to like, watch the show or anything like that," and Cardellini responded, "I mean, I might have."
Honestly, there really is no excuse for something like this. MacFarlane said he didn't remember the situation, which may or may not be true, but it was his show, and he's ultimately responsible. It would be nice if he could at least apologize!
In the end, MacFarlane said, "I'll say what I say whenever something like this happens: Can I offer you something on American Dad?" Hmm, "whenever something like this happens"? Does it happen often? Because if so, maybe get it together, MacFarlane?
You can watch the whole clip below, but prepare to cringe!
h/t: BuzzFeed