Katy Perry has thrown some shade in her time, make no mistake. She had that thing with Taylor Swift, with a diss track and stealing backup dancers and a whole bunch of drama. Supposedly that's over, but let's just say it wouldn't be out of character for her to diss someone like, say, Britney Spears.
Perry has brought up Spears in the past, making mention of the breakdown in 2007 when Britney shaved her head.
She's brought it up at least three times: Once in an interview.
Once on a red carpet.
Remember when Katy Perry mocked Britney's breakdown? And y'all closed your eyes on that? pic.twitter.com/uSPLUWntrx

— ? (@graceonsel) February 1, 2019
And once on Twitter.
*SHAVES HEAD OVER DRESS*

— KATY PERRY (@katyperry) February 27, 2015
On Friday, Perry Instagrammed a picture of something nice someone had said about her by making Spears look sort of bad. Perry posted a quote from a Q&A with producer Greg Wells. The interviewer brought up Perry, saying, "In past conversations, you've related that Katy is her own woman."
Wells responded basically by dissing Britney Spears. He said,
"I'm not sure if people know that. They think she's handed a script like a Britney Spears and told what to sing. It's the exact opposite. She is telling people like me or Max Martin what to do. She tells her management who will direct her video and she tells her label what the first single will be. She drives it. She's been like that since the first album."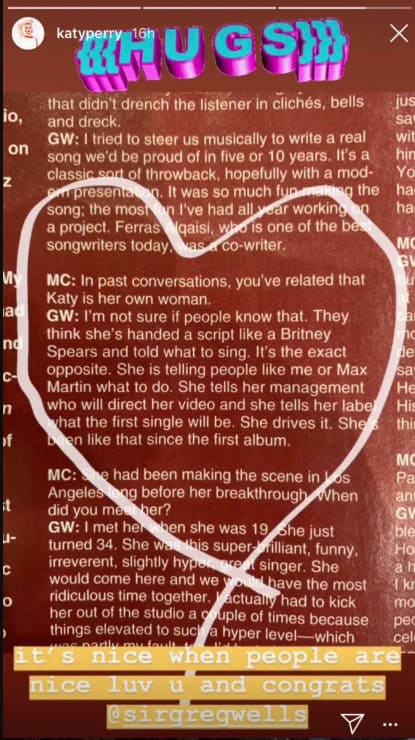 Perry put a heart around that part of the interview, added the word "hugs" to the Instagram story, and added text at the bottom reading "it's nice when people are nice luv u and congrats @sirgregwells."
Well. That's…definitely a diss. It clearly implies that Britney Spears isn't her own women, and doesn't have any say in or control over her music and career. Just what does Perry have against Spears?
Fans of Britney were not having it and came for Katy.
Uh, fucking no. It's ignorant to say that Britney Spears has never made a decision about her own career – down to the "…Baby" video being her own idea after shooting down the corny original concept. Please stop feeding into this bullshit narrative.

— Bradley Stern (@MuuMuse) February 1, 2019
Why does Katy perry constantly throw shade at queen Britney when Brit has been NOTHING but nice and supportive to her. Karma is a bitch. Have fun on idol pic.twitter.com/1GTaFkEcjN

— AJ Szalla (@ajLIMELIGHT) February 1, 2019
Fans pointed out that Spears does actually do all the stuff the producer said about Katy Perry.
Britney literally wrote 70+ songs, playing piano, singing, dancing, acting, and came up with the idea for most of her biggest songs/MVs ?

Funny that it comes from a person who released the same album 4 times ? https://t.co/lcLTl7qRcc

— ` (@circuslays) February 1, 2019
So @katyperry threw yet another Britney shade? This video never gets old… pic.twitter.com/8wlvdra4yI

— Kneeatus (@blackzoneglory) February 1, 2019
Justin Tranter speaks on co-writing with Britney Spears (2018)

So much for "being handed a script and told what to sing" ??‍♀️ pic.twitter.com/tzlQJ2Xmah

— callum (@troubleforknee) February 1, 2019
What is this feud even about? Both women are talented performers and amazingly hard workers. There's no need for Katy Perry to try to tear Britney Spears down.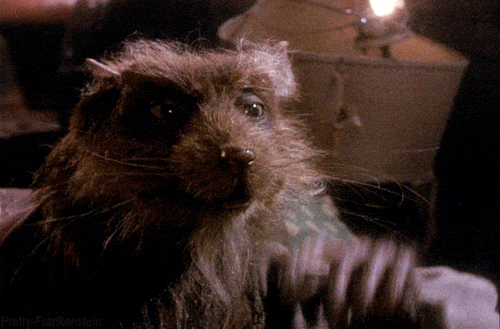 h/t: BuzzFeed