Superstar pop singer Katy Perry is currently acting as a judge on American Idol, sharing her expertise with up-and-coming performers trying to make it.
Perry absolutely wears her heart on her sleeve—we know this because of the time last season when she had to be literally dragged off stage because she wouldn't stop kissing the Bachelorette's hand. (Yeah, it was weird.)
Well, on Monday night a couple got engaged on the show and you can't even imagine Perry's reaction. I mean, you might think you can, but you can't. You really have to watch it.
Contestant Joanna Jones had just finished singing "Wicked Games" (and received a standing ovation from Perry) when her boyfriend suddenly appeared on stage.
Jones was shocked.
As were the judges.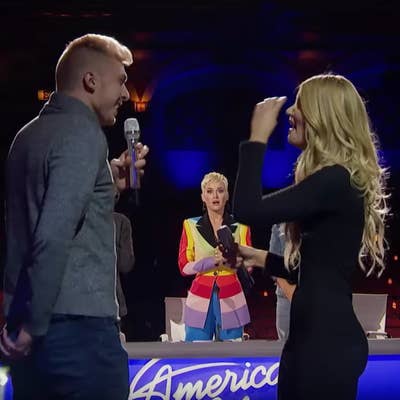 When Jones' boyfriend got down on one knee to propose, Perry pretty much fell to the floor.
Yes, it's a lot.
And when Jones said yes, Perry's face went like this:
And then, while everyone was congratulating the newly engaged couple, Perry said, "Why won't someone love me like that?"
Remember, this is before she and Orlando Bloom got engaged!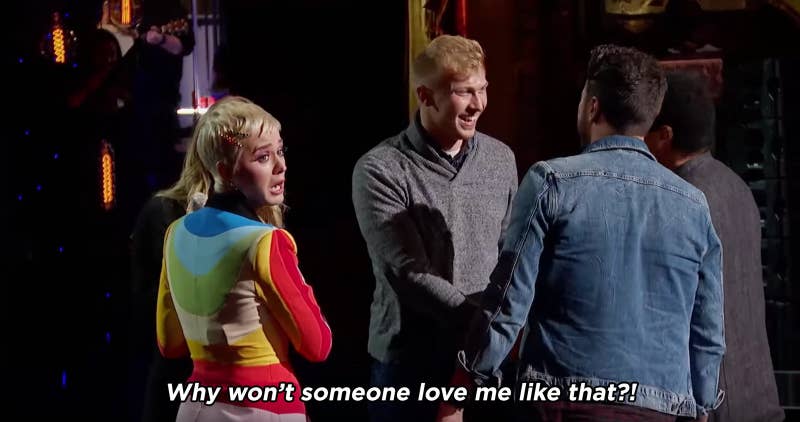 . @JohannaLynJones and Matt, that was such a beautiful moment, but it may have been the ugliest cry of my life #AmericanIdol pic.twitter.com/FGdvFDJ4Sr

— KATY PERRY (@katyperry) March 26, 2019
Anyway, we can appreciate her enthusiasm, but it's maybe a bit of a bummer that her reaction took attention away from the couple.
People on social media weighed in with their thoughts on Perry'dramatic reaction.
A lot of people totally related.
current mood @katyperry pic.twitter.com/D0VIBLZB4T

— ♠️Chiara♥️ (@witnesschiara) March 26, 2019
A girl just got proposed to on American idol and Katy perry was actually sitting in the floor bawling lmfaoo Katy Perry is me I am Katy perry

— m??m (@hannahhhalesiii) March 26, 2019
katy perry crying over a proposal on american idol and saying "why wont someone love me like that" is a phat mood

— kayla ! (@kaylaberinreyes) March 26, 2019
Katy Perry crying and yelling "WHY WONT SOMEONE LOVE ME LIKE THAT" after a proposal on American Idol is a whole ass mood

— Linds (@lindsey_riedle) March 26, 2019
Other people thought it was especially sweet given that months later, Perry would be engaged to Bloom.
The fact that two months after u were the one saying yes, im not crying at all ❤️? pic.twitter.com/5f4oyUZEpo

— stephhh (@katycat_gurl) March 26, 2019
Congratulations all around!
Oh, and if you want to see something really sweet, you can check out the whole thing below.
h/t: BuzzFeed