Anxiety, thy name is Zoomer.
Boomers may spend their days frothing at the mouth over the latest moral outrage committed by millennials (while completely forgetting about Gen X) but the truth is worrying about millennials is old hat. There's a new kid on the block ready to soak up all that concern like a dollar store sponge: And that kid is Generation Z.
These 16-25-year-old Zoomers are a generation that came of age during a time of great economic uncertainty and it's made them an angsty bunch.
Some have become very serious by necessity, while others have retreated into the emotional safety of whimsy and nostalgia for times they never knew. They're a colorful and creative cohort and, as with any generation comprising millions of people, there are contradictions and contrasts aplenty.
So here are 21 tweets that sum up the bewildering reality of Generation Z.
1.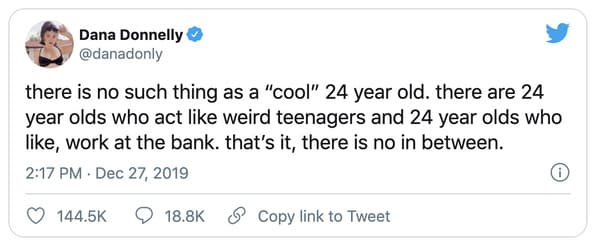 2.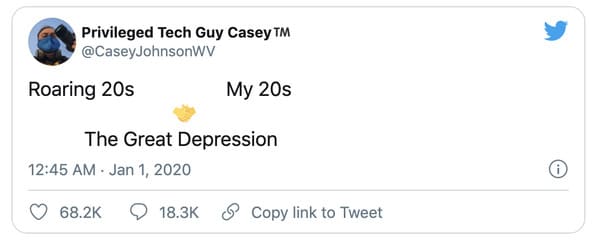 3.

4.
"Enjoy your twenties! Travel! Try new restaurants! Experience new things! pic.twitter.com/FHldvOaGkX

— bemadi$on (@bemadis0n) September 25, 2018
5.
my 20s as movie franchise
21: The Disappointment & The Anxiety
22: 2 Disappointed 2 Anxious
23: The Disappoinment & The Anxiety: Tokyo Drift

— Gabby Noone (@twelveoclocke) September 25, 2017
6.
Gen Z culture is apologizing to your phone bc you dropped it

— sara (@toskasa) June 13, 2020
7.
Gen Z culture is having two different conversations with the same person on different apps

— tristan™️ (@tr1stans) July 24, 2020
8.
Being in your early 20s is all about waking up gasping for air at 8am, rolling out of bed, having a quick cry in the shower before heading into your 9-5 job at a start up that spent more money on the basketball hoop than your annual salary

— Aol.com (@lukasbattle) January 6, 2020
9.
I have friends getting married and having babies and I have friends making slushees out of pedialyte and vodka before 4pm. Idk what end of the spectrum I fall under but I do know being 23 is a very confusing age.

— lil arab (@sweatyhairy) April 29, 2019
10.
Single af. Financially unstable. Emotionally distressed. And just moved into an overpriced apartment with roommates. All by the age of 21.???? pic.twitter.com/97ECqP6DmE

— Sharon ❀ (@garbage_bagel) August 22, 2017
11.
me being 25 and not having a driver's license
pic.twitter.com/cHcyREGg9L

— Witch Baby (@GoAskAvery) August 9, 2019
12.
being 25 is such a trip I cannot believe people get this old

— ellory smith (@ellorysmith) December 22, 2019
13.
Me in my mid-20s telling people in their early-20s how they have to take advantage of their youth pic.twitter.com/fJZvmoS43D

— Cazembe, PhD, First of His Name (@TwiterlessGuru) May 8, 2019
14.
all gen z and millennials have a mild case of tinnitus from falling asleep with headphones in whilst listening to a carefully curated depression playlist

— grant (@TakeForGrantd) January 13, 2020
15.
//I just realised-

The reson why Millenials and Gen Z kids don't care about ww3 if because we all want to die anyway-

— . (@DepSanders) January 13, 2020
16.
your 20s are for your father's attempts at compensating for being absent or emotionally distant your whole childhood

— Djungelskog, PhD (@apesrnotmonkeys) January 23, 2019
17.
Guys in their 20s have personalities that consist of one or more of the following:
lifting weights
fantasy sports
video games
making music

— Father Okra (@Eli_McBride) September 23, 2018
18.
Imagine being 22 and still having to lie to your mom like a child lmaoooooo.. it's me I'm the fucking child

— Keely (@keeleeloo) May 4, 2019
19.
Being 23 is a cool age. It feels a lot like 21 but with 2 additional years of failure stapled to your forehead

— leo (@leonardcowalski) November 6, 2019
20.
Being Generation Z means knowing more than your office IT department and still having to sit and watch them struggle with Internet Explorer

— T (@waittype) October 1, 2015
21.
Being 25 is so weird because like I want a baby but also I don't really understand taxes fully

— Loey (@Loeybug) January 31, 2019