Funny, stupid injuries are what makes this country great. In fact, the comedy is doubled by the fact that if you don't have insurance, that dumb mistake could ruin your life. It's like being a caveman. You sprain your ankle, you get eaten by a lion. But, now, if you injure yourself you might survive if someone films the event and submits it to America's Funniest Home Videos. Otherwise, you're probably in trouble financially.
Many people who hurt themselves, however, can often look back and laugh at the dumb mistake they made. They're fine now. You're allowed to laugh at everyone tweeting about their pain and stupidity because they're healthy and owning up to their dumbness.
This viral tweet from @MinaKimes started it all:
From there, everyone on the internet dug into their own past. What did they find there? Memories of extremely stupid times they hurt themselves. They aren't alone. I've burned myself multiple times while cooking simple meals. These stories, however, take things a step further.
It's time to laugh at other people's pain as they share the dumbest moments when they hurt themselves:
1. Mina kicked it off, and then immediately thought of a second dum injury.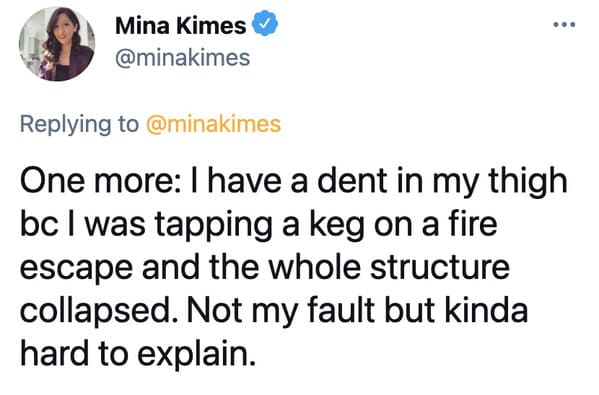 2. The photographic evidence makes it hurt more.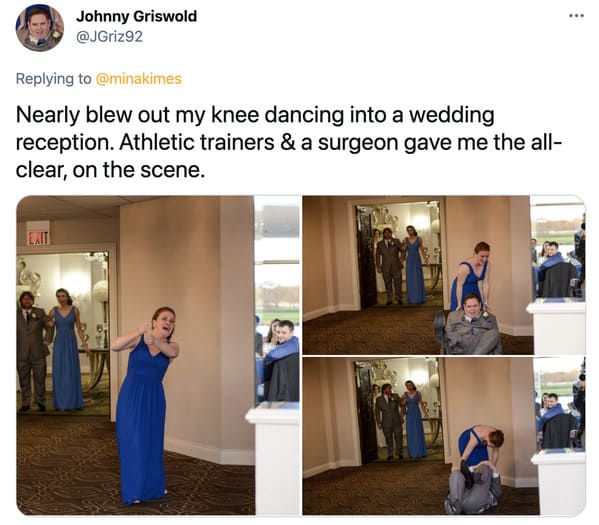 3. By far, the funniest but worst day of this guy's life.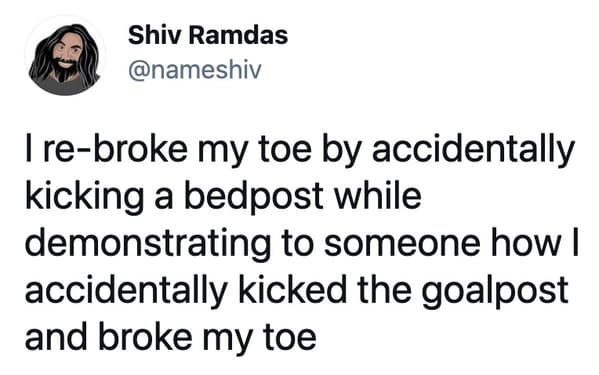 4. Still a good girl.
My puppy gave me a black eye the day after my 30th bday

The moment I bent over to grab a phone charger near our bed was the exact moment that she decided to launch herself, full-force, onto the same bed

*Note: No puppies were harmed in this incident, and she is a very good girl pic.twitter.com/EMO1wpRtXX

— Amanda Weinstein (@aweinstein4719) March 21, 2021
5. Fighting yourself.
Fell asleep on my arm. Woke up in the dark & couldn't feel it at all. I was trying hard to move it & just as I was about to give up, my hand fell from the sky & whacked me in the face!

You don't know fear until you think you are being attacked w/only 1 arm to defend yourself.

— Michael (@MikeHensler15) March 22, 2021
6. The scars of privilege
I have a scar on my thigh from a middle school food fight. Because I was on the eastern shore of Maryland, someone had hucked a crab and it stuck into my leg like a throwing star.

— Chris M (@ChrisM_SF) March 21, 2021
7. This is the fate of everyone who gets older, I'm afraid.
Sneezed too hard and strained a muscle in my back that had me down for two days.

— Benjamin Allbright (@AllbrightNFL) March 21, 2021
8. Worth it.
Pinched a nerve in my neck from too much tweeting

— Lindsay Goldwert (@lindsaygoldwert) March 22, 2021
9. My mom's biggest fear when I was a kid.
I swallowed a soda can tab. ER doc gave the RN $1, asked for a soda from the vending machine. He tore off the tab, taped it to my hospital gown and said, "Tell Xray they are looking for this shape." pic.twitter.com/4UJoTboxmM

— Betsy Towner Levine (@betsytlevine) March 21, 2021
10. The spider won this round.
I had a spider crawl out of my shirt and up towards my nose while seated against a wall. I flipped out and banged my head against the wall giving myself a concussion. Fun times.

— Haralabos Voulgaris (@haralabob) March 21, 2021
11. This isn't dumb so much as "earned."
When I was a kid, I ran face first into a tree playing imaginary basketball against my dog, who I was pretending was Michael Jordan. pic.twitter.com/VYzr6J30uN

— Andrew Gjefle (@Nothing0riginal) March 23, 2021
12. The most important toe.
I woke up one morning, stretched and curled my toes, and heard a pop.

I broke my big toe by waking up.

— Ken Childs (@TheKenChilds) March 21, 2021
13. Fun visual.
I ran full speed under a volleyball net and caught my head on the bottom of the net which slingshot my head into the pavement, giving me a nice grade 3 concussion

— Daryl Morey (@dmorey) March 21, 2021
14. I'm surprised this person isn't dead.
I injured myself by stepping on a Lego in kids bedroom while putting clothes away, lost my balance, grabbed the clothes drawer pulled it out as I fell over backwards and it all fell on top of me. All true. Can't make it up

— @jobiebest (@jobiebest) March 22, 2021
15. I salute you.
Three stitches in my thumb from a box grater making homemade mac and cheese. I will note that I ate the mac and cheese first before going to the hospital.

— Jenna Golden (@jigolden) March 22, 2021