Kens and Karens are only now getting their time in the spotlight, but as someone who used to work in the service industry for a long time (and a long time ago) I can say that they've ALWAYS been around.
Stupid customers asking for stupid things and throwing a tantrum when they don't get what they want. There just haven't been cameras recording them and screenshots of texts to shame them with. Which is unfortunate.
GrubHub delivery driver and Twitter user @decentbirthday recently shared a text exchange between a customer who texted them, "Can you ask for no cheese on my cheeseburger."
No please or anything!
When @decentbirthday replies "Yeah and apparently the hamburger is a dollar cheaper if you just want that," doing the customer a favor by offering to save them a dollar, they reply, "I do not want a hamburger. I want a cheeseburger with no cheese," & then: "If I wanted a hamburger, I'd order a hamburger."
When @decentbirthday just replies back, "Okay," the customer rudely tells them "There goes your tip."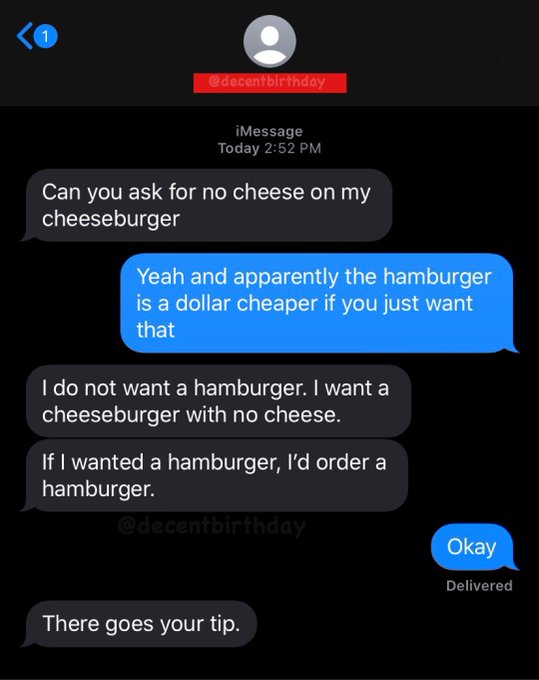 "Just delivered Grubhub to this customer, and now I see why Coronavirus is kicking our a**," @decentbirthday captioned the screenshot.
This tweet went viral and people began sharing their own experience working in the food industry and service, specifically with stupid customers who modified their food orders in stupid ways. GrubHub even saw the tweet, and replied: "DM us for your well-deserved tip."
P.S. DM us for your well-deserved tip

— Grubhub (@Grubhub) July 15, 2020
1.
The bartender looked at me like I was an idiot for a second but we had a good laugh after I told him the story.

Orange juice was only like $3 or something, but that's on her. One of the friends she was sitting with looked super embarrassed, but I just kinda rolled with it.

— Matthew J. Kuiken (@Juris_Sequoia) July 15, 2020
2.
I once witnessed a woman order a chicken quesadilla without cheese.
me: soft chicken taco?
her: NO. a chicken quesadilla without cheese.
the dude behind the counter was confused.
me: si, sin queso.
him:…?
he gave her a soft chicken taco, she walked out all smug.
we roared.

— Pfunk, the shenanigator (@Gluonsrule) July 15, 2020
3.
People used to yell at me when I worked drive thru at wendy's when I would punch in hamburger instead of cheese burger no cheese. Same story when they ordered the deluxe plain (the only thing that makes deluxe different is the added toppings)
Like alright waste your money then.

— Ross is trans™ (@queer_hellenic) July 15, 2020
4.
(2/2) she then complained to him that the night before she had purchased a HOT latte because she was planning on drinking it early the next morning.. then in the morning she goes to drink it and it's COLD. She was dead serious about getting it remade. I hate people.

— (@Moonpie_Luna) July 15, 2020
5.
I worked at Arby's for a few years and I wanted to die every time I heard "What kind of cheese comes on the 'Beef n' Cheddar'?"
I used to think those Critical Thinking exercises in school were dumb… BUT APPARENTLY PEOPLE NEED THEM!

— Arawn Nox ???? (@ArawnNox) July 15, 2020
6.
Customer: large nacho meal.
Me: okay, what three dips would you like with your nachos?
Customer: coke.
Me: sorry, I need to know what dips you need first
Customer: *flashes card* card.
Me: no I really need to know which dips you want
Customer: *puts card in machine*

— abbie (@AbbieDavy) July 15, 2020
7.
I once had a customer ask me for a Mocha but no espresso in it so I just told him oh you want a hot chocolate? And he was like no I want a mocha. I explained to him what a mocha was but he still wanted a mocha with no espresso. So I charged him for a mocha n gave him choccy milk.

— [email protected] sadness (@lucipurrrrr666) July 15, 2020
Also another customer asked for a latte with no espresso so I told them you just want steamed milk? And she said no a latte with no espresso. So I gave her steamed milk and then she complained that it tasted like milk. Like????

— [email protected] sadness (@lucipurrrrr666) July 15, 2020
8.
My friend's ex husband, not born and raised here, used to ask for a cheeseburger without cheese all the time. She never did get through to him. The kids refused to go get fast food with him. ‍♀️

— Kristina of ⭐️⭐️ (@maytagsmom) July 15, 2020
9.
Adjacent to this: one time I went into a cafe, politely asked for a coffee and sandwich, and the barista broke down crying.

I asked what's wrong and what she said hurt my soul:

"It's just… you've been the first polite, nice customer all day!"

It was noon. They opened at 7.

— Jamie Jeans (@JoltStudios) July 15, 2020
10.
"How many slices come with a large pizza?"
"We normally cut them into 8"
"And a medium?"
"Also 8, but we can cut any pixxa differently if you'd like."
"That's a rip off! Why don't you get more slices with a large pizza?"

— el decay (@notsuohsports) July 15, 2020
11.
People are weird about their food. Especially eggs. I have PTSD about people sending back eggs. And the cooks would act like the servers were personally insulting them by bringing food back.

— The Gentleman is Not Recognized (@dcransdell) July 15, 2020
12.
i had this same conversation with an old woman when i was 16 and working at wendy's and she threw a handful of coins at my head and said "you just lost a customer, whore!" deadass gettin paid less than minimum wage to be harassed smh

— bart harley jarvis thinks acab (@villagethot) July 15, 2020
13.
Some kid and his dad decided to kill their wait time by throwing a souvenir football *inside* the small restaurant gift shop I worked at, and the dad had the gall to say "Looks like she doesn't want our business!" and storm out when I caught it and wouldn't pass it back lol

— MissOnYourMark (@MissOnYourMark) July 15, 2020
14.
(2/2) then the most kind worker I have ever met came up to me and said "that was very nice of you she was so rude" and took me out the back to the cool room where they had even BETTER flowers. moral of the story – people suck but the real ones stick up for each other

— Squeaksplays_ (@SqueaksPlays) July 15, 2020
15.
I know someone who managed a Starbucks and had a lady that would come in for an espresso, but "only half the espresso" they tried to explain that's not how that works and she wound up coming in and paying more for a half cup of espresso with water for years

— Particularly Tiny Potatoe (@PtinyPOTATOE) July 15, 2020
16.
Flip side of this: every time I order a croissant at a Starbucks I get verbally auto-corrected by the cashier to "butter croissant." Sometimes they're like, "do you mean a butter croissant?" This is a micro aggression.

— Darwin Is Pissed (@darwinispissed) July 15, 2020
17.
And he says "all of them" like no sir do you know how much extra I would have to charge you for that? People find it very hard to grasp that subway has an actual menu and you can't just pick any amount of meats. Also vegetables. They constantly just say they want everything. NO

— Mary !! (@yikesmary) July 15, 2020
18.
I worked at a coffee shop years ago and someone complained their cappuccino had coffee in it ????

— Grace ???? (@stheastonishing) July 15, 2020
19.
I worked at a coffee shop years ago and someone complained their cappuccino had coffee in it ????

— Grace ???? (@stheastonishing) July 15, 2020
20.
like 10 years ago, When I was working at Qdoba I had a customer ask me for a Kids Quesadilla, with no cheese. Curious, I asked why, and she said her son was lactose intolerant and could not eat cheese. Which made me wonder why she chose to order a Quesadilla at all…

— Jay Madison (@jmadfour) July 14, 2020
21.
Omg this lady lost her dang marbles chewing me out. She could not fathom that mocha could mean chocolate and coffee. So, we said "okay, a chocolate latte coming right up." I made her a regular mocha. She took a sip and went "SEE?!! Was that so hard?! God.." Karen's are a plague.

— Sandwich Menu (@DietSoDuhx) July 15, 2020
22.
At my cafe once some lady asked for a cold hot chocolate. I said "Alright so like, a chocolate milk?" and she said "No, a COLD hot chocolate."

— ACAB (@Caramalameet) July 15, 2020
23.
one time when i worked at taco bell a lady ordered a dorito loco taco. i asked her what flavor and she said the nacho cheese one. it rang up NC dorito loco taco bc that's the name of it and she yelled at me bc she "didn't want dorito flavor, she wanted nacho cheese flavor"

— ????????‍♂️ (@_lexieb_) July 15, 2020
24.
I used to work at a Subway and I vividly remember a woman ordering two turkey and ham subs, one without ham. I said "oh, so a turkey sub, what kind of bread-" and she was. So insistent that she get a turkey and ham without ham. So I charged her extra for a sub with half meat.

— Noodle/Rin | Commissions Open! (@n00dl3gal) July 15, 2020
25.
I had a guy come to the deli counter super-pissed that there were only 1/2 lb containers of pepperocinis in the case, because he needed a "whole pound" I could not get him to hear that he could get two, and ended up having to empty two into a larger tub for him

— Tabetha (@djinnantonnix) July 15, 2020
26.
I had a lady who would order a hamburger with cheese and refuse to pay the extra for cheese. I would just give her a cheeseburger at the hamburger price. That was 30 years ago and I bet she still does the same thing and says "they used to let me do that here."

— Mark Anundson (@yeoldwalrus) July 15, 2020
27.
OMG, the people who insist on "everything" drove us nuts at our place. Most of us did what you did, but one guy worked for us did his best to really put a little bit of everything. That sub cost a small fortune. 🙂

— Bill Soistmann (@bsoist) July 15, 2020
28.
Apparently the toys in the HBHM and CBHM were different and she wanted the CBHM toy, but not the cheeseburger. The kid behind the counter offered to switch the toys, but Karen insisted on getting the CBHM with no cheese.
????
It was a truly bizarre exchange.

— Edna K. AntiFa HR Director (@EdnaK_) July 15, 2020
29.
Guy came in & asked what a Chicago dog was. I told him and he said he'd take it but with only ketchup and mustard. I rang it up like that which costs more and my manager called me back & said wtf. I told him that's what the guy said he wanted and he just laughed and said ight bet

— Joel White (@jw3ftw) July 15, 2020
30.
I told her that we bake them first thing in the AM and we bake in bulk so, no, I could not bake her one. She stared at me another 10 seconds and then stormed off. (2)

— kwilso (@OMGKaren_) July 15, 2020
31.
When I worked in a 5 star kitchen I got asked,(While I was pouring milk into Cheese dip that was starting to clump.) "Does this cheese have milk in it? Cause my table has 1 lactose intolerant."
I asked her what is the main ingredient in cheese. She STILL need reassurance.

— (╭ರ_•́) к เ ร ค (@NopedTheFuckOut) July 15, 2020
32.
Reminds me of the lady who ordered no foam cappuccinos and would absolutely insist she did not want a latte, so we just had to warn new kids not to bother explaining it to her and ring it up as a cappuccino but make a latte anyway like???? What do they think is gonna happen

— L'Etoile du Nope ???? (@lauradonut) July 15, 2020
33.
I once knew a woman who would order a cheeseburger w/no burger for her picky eater daughter. At McD's. The bun & a slice of American cheese. I used to always wonder what the conversation in the kitchen must have been like when that order would come in.

— Shanon Taylor (@DrSpEdinNV) July 15, 2020
34.
Double stackers at BK used to cost like $5.49. People would order them with no stacker sauce all the time and get FURIOUS when I'd ring it up as a plain bacon double cheeseburger for $2.49.

— Gammy (@GammyBass) July 15, 2020
35.
My first job was at a chicken restaurant, and a customer asked me how many pieces of chicken came in an 8 piece dark, and I've been disappointed in humanity ever since.

— Accomplished Shopaholic (@EssenceBeasley) July 15, 2020
36.
One time I was ringing up an item for a customer; he told me this item should be $5.99. But it was on sale so I told him, "Well you're in luck because it's actually cheaper. It's $3.50." But he just looked at me and glared, "NO. It's supposed to be $5.99." He didn't buy the item. pic.twitter.com/PAGxANx7Tb

— kure.kat (@Glaciaca) July 15, 2020