People love (or hate) Cardi B because she is who she is and she makes no bones about it. And being who she is—a generally tough AF woman from the Bronx trying to make it—it's always just a matter of time before something that she says or does or said or did pisses people off.
In a recently resurfaced Instagram live video from a while back (3 years, according to Cardi), the rapper is talking about all the things she did to get by before she got famous.
"Ni**as must've forgot, my ni**a, the sh*t that I did to motherf*cking survive. I had to go strip. I had to go, 'Oh yeah, you wanna f**k me?' Yeah yeah yeah, let's go back to this hotel. And I drugged ni**as up andI robbed them. That's what I used to do. Nothing was motherf**king handed to me, my ni**a. Nothing!" Cardi says in the clip.
Rapper #CardiB admits to using sex to DRUG men and ROB them of their money. pic.twitter.com/vIYYP1fMfr

— 24/7 HipHop News (@BenjaminEnfield) March 25, 2019
Once the video started circulating, it wasn't long before there were calls to "cancel" Cardi B and the hashtag #SurvivingCardiB (a riff on the docu-series Surviving R. Kelly) began trending on Twitter.
People on social media had all sorts of takes on the topic, a lot of them angry.
Stand up people. It's time to cancel Cardi B. If she was a man she would have lost all her endorsements, radio play, Vegas residency, everything. She admitted to DRUGGING men. #TimesUp for women like her too. #SurvivingCardiB

— Ashlee Watson (@LilMissShlee) March 27, 2019
R kelly was accused admitted nothing and may actually be innocent,yet the whole world wants him canceled,Cardi b actually gave and open confession of her crimes yet no one is cancelling her,its tough not having ass and pussy in this world..#SurvivingCardiB

— Q.B (@CharlesChalin) March 27, 2019
@iamcardib HOW ARE YOU NOT IN JAIL?????? You drugged and robbed people…and your musical talents are at a 5th grade talent show level. Robbing people??? Just GO AWAY….You've had your well milked 5 seconds of fame! #SurvivingCardiB

— Sofia Guled-Moffitt (@SofieMoff) March 27, 2019
Cardi B, nobody said you had to be perfect, just don't be a fucking idiot. Literally nobody would've known that you were drugging and robbing men until YOU decided to brag about it and expose it to the public. Your loud ass mouth is the only thing standing in your own way. pic.twitter.com/00tDmplR6y

— stEphaniE (@steveakni) March 27, 2019
Someone is in jail for same thing Cardi B confessed to have done.#SurvivingCardiB pic.twitter.com/pYls6Ei09n

— ZEUS (@itzbasito) March 27, 2019
But not everyone was against her:
Cardi B might have been a badass way back… Done more grievous crimes… But you should know. People change.. Y'all come for her cause she's on the loose.. Pretty sure you're gonna Come asskissing when she's winning again… #SurvivingCardiB.. Be strong ? @cardib.

— Franklin Bernard (@Budapestgrrrk) March 27, 2019
I said wtf I said periodt. @iamcardib #WeLoveYouCardi pic.twitter.com/Oins3L2uoS

— Kita (@Kita09366556) March 27, 2019
Cardi is not one to leave things unsaid, so she took to Twitter to address the critics. Using the Notes app on her phone (the method of communication du jour), Cardi wrote a lengthy explanation saying that she "never claim[ed] to be perfect or come from a perfect world with a perfect past." She also wrote, " I always speak my truth I always own my sh*t," and she pointed out that she comes from a world of hip hop culture "where you can talk about where you come from talk about the wrong things you had to do to get where you are."
She posted a screenshot of her response to the matter in a Tweet that read, "All I can do now is be a better me for myself my family and my future."
All I can do now is be a better me for myself my family and my future. pic.twitter.com/VlPJW20thN

— iamcardib (@iamcardib) March 26, 2019
She'd posted a few other tweets before that one that made it fairly clear she wasn't sitting at home worrying about the situation.
When they try to cancel me on Twitter and instagram ????????? pic.twitter.com/a19gI006Xk

— iamcardib (@iamcardib) March 24, 2019
IM THAT BITCH THEY LOVE TO HATE,IM THAT BITCH THEY HATE TO LOVE ❤️ ?and I love it ???

— iamcardib (@iamcardib) March 26, 2019
No matter what, Cardi B will always be a controversial person, so this is probably not the last time people are going to be upset with her.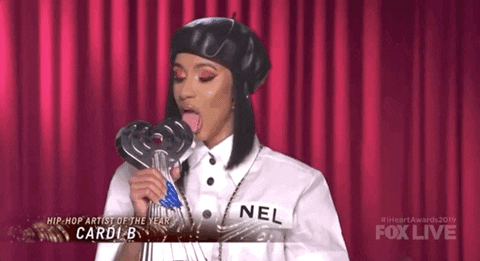 h/t: Someecards