When it comes to anxiety, people are always looking for new ways to help keep it at bay. While anxiety, depression, and insomnia are some of the biggest things keeping us up at night, it would be incredible to find something that would wash it all away. Unfortunately, there's no "one cure" for any of these problems, but people have found that weighted blankets are an effective tool in easing the symptoms. As someone who personally suffers from anxiety, it can be dreadful. But, after reading up online, I've realized that getting a weighted blanket may be the solution to my sleepless nights. That being said, here are all of the best weighted blankets we could find online.
*Full disclosure: We may receive some portion of the sales made on this list. We're using the money to stock up on allergy medication for the fall.
7. This super cozy and affordable dark gray blanket by Weighted Idea.
Encouraging Review: "This is the best purchase I've made this year!!! I've worked night shift they past 6 years. Sometimes falling asleep is a big problem. I purchased the 20 lb. With this blanket, I can fall asleep in 5 minutes. NO JOKE! You feel snug and relax quickly. I have been raving about this blanket to everyone. Very well made. I bought a queen but wish I had bought 2 twin or lap size. One for me and one for him who hogs the blanket!! I suggest buying a duvet for easy washing!!" – J. Wostbrock
Get it on Amazon
6. This 12-pound blanket.
Encouraging Review: "I love this blanket. The cover that comes with the weighted blanket is very soft. I don't find that the raised dots do/feel different but they're fun. The blanket itself is a nice weight. I do find that the blanket shifts inside the duvet (even when using the ties) but it's easy to fix and the blanket wraps around me in a way that feels snug/safe." – Theresa Z.
Get it on Amazon
Encouraging Review: "I suffer from insomnia. I received this blanket recently and have had much better sleep since I started using it. I highly recommend it! The only thing I wish is that there was a larger size! This version is more of a throw than a full-size blanket." – Beccaryn
Get it on Bed Bath & Beyond
Encouraging Review: "Great quality, very comforting. I weigh 125 but got the 15-pound blanket based on other reviews, and I'm glad I did. It took four nights to get used to it, but I now love it. I'm very cold natured, so I'm fine with it, but if you tend to get hot at night, go for the lighter cool one!" – April D. 
Get it on Weighting Comforts
Encouraging Review: "When you climb under this blanket, it soothes the soul. I fall asleep very quickly. The weight has a way of making you feel protected, safe and I sleep like a baby." – nothinglikeme
Get it on Amazon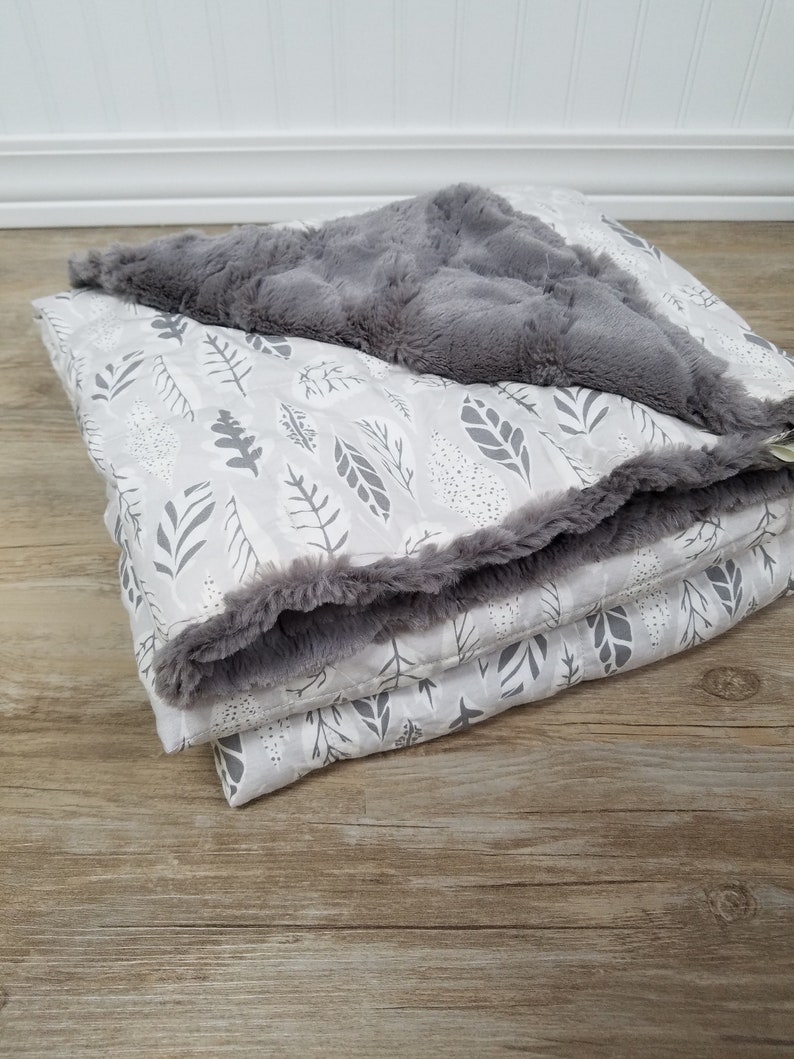 Encouraging Review: "Was so excited to receive my blanket! Its what I wanted and needed. I have no issues or complaints regarding my purchase. Happy customer!" – Ashley Schrader
Get it on Etsy
Encouraging Review: "This might go down as the best purchase I have ever made! Love this weighted blanket, I have never slept better. This is the second blanket I have purchased (the other from another company) and this one was by far the best!" – Jill M. Costa
Get it on Amazon
Time to snuggle up.